The phablet market came as a bit of a surprise – no one expected the Note to sell as well as it did. Now that the class gained traction, though, the LG Optimus Vu, has big dreams for its future.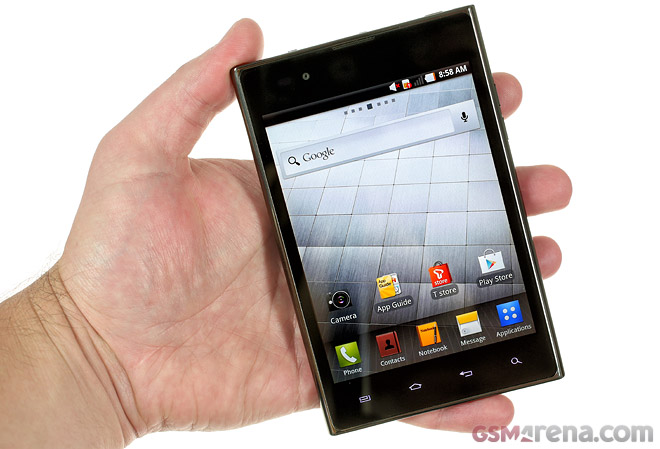 It sets itself apart with L-series styling, a 4:3 screen and comes with a nice, easy to handle stylus in the box.
The unusually-styled box packs all the essentials – a charger, a microUSB cable, in-ear headset, a SIM removal tool, manuals and a LG Rubberdium stylus. The stylus is fairly thick making it easy to hold, but there's no slot for it on the Vu so you will have to carry it separately.
The LG Optimus Vu has a 5″ HD-IPS LCD of 1024 x 768 pixel resolution. The screen looks great, but the 4:3 aspect ratio is fairly unusual. LG's motivation for going 4:3 instead of 16:9 is that it offers more room for reading.
Anyway, the phablet is powered by a Qualcomm MSM8660 chipset with a dual-core CPU clocked at 1.5GHz and 1GB of RAM. It's running a skinned Android 2.3 Gingerbread, which is usable enough but it feels quite old with 4.1 Jellybean just around the corner.
Still, LG has done an excellent job with the software package – the Optimus Vu comes with plenty of nice apps preinstalled, including an Office document editor, a couple of NFC apps, a video editor, eBook reader, a Backup app and more.
The Notebook app helps you create beautiful multi-page notes with images and text using the stylus. If you just want to quickly take some notes, you can hit the QuickMemo hotkey – it will snap a screenshot and let you draw over it.
Check out our unboxing and hands-on video to see what the LG Optimus Vu is like in action.
We're working on a full review of the Optimus Vu where we'll do a much more thorough examination of the LG phablet.