The LG Optimus G Pro is the current king of phablets – other phablets couldn't put up much of a fight against the 5.5" 1080p screen or the Snapdragon 600 chipset. The phablet market exploded after the first Galaxy Note came around and quickly went from niche to millions of units and LG has engineered the Optimus G Pro to be the best in that field.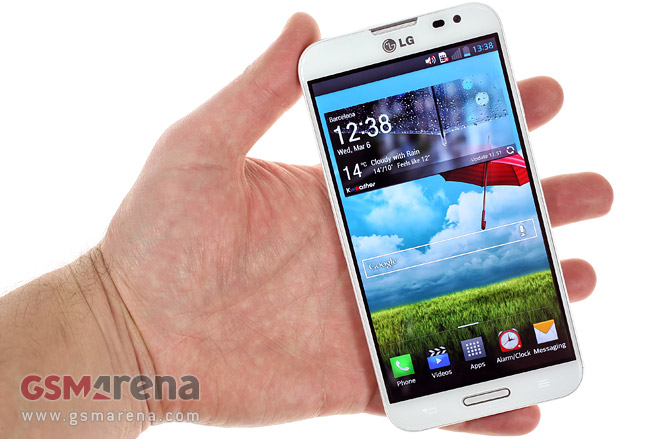 The screen is pretty amazing – it has excellent viewing angles (better than the Optimus G screen) and great colors. It doesn't have the contrast and color saturation of the Samsung Galaxy Note II, but the difference in sharpness is pretty big. Overall, it offers some of the best image quality of any LCD out there and its sheer size makes it the most impressive of the bunch.
We quite liked that LG went for a removable back cover with the Optimus G Pro. This means easy access to the microSIM and microSD card slots and a removable battery. The back cover has a pattern similar to that of the Nexus 4 back, which changes with the angle of the light that hits it.
It's a pretty big device, but it's still more compactr than the Galaxy Note II thanks to the thin bezel around the screen. Unless you have big hands you'll have trouble reaching the four corners of the screen, though.
We have to say we weren't big fans of LG original QSlide implementation, though the one used here is much more usable. Seven apps have floating mini app versions and you can have up to two on the screen at a time, in addition to a full screen app behind them. You can see the new QSlide in action in the video:
The camera got some exciting features too. The Optimus G Pro is the only non-Nexus device to have Photo Spheres (though LG calls the feature VR Panorama) and the dual video recording is a pretty cool idea. It combines footage shot simultaneously with the front and back cameras, picture-in-picture style.
That's just a taste of what the LG Optimus G Pro has in store. We're working on a full review of the phablet (you can read the preview while you wait) and we're considering a vs. article too, so stay tuned there's a lot more to come.