With both LG and Samsung pretty keen on bragging about their latest LCD display tech, we decided to put their latest devices through their paces and see how good they really are.
We have both the IPS-packing LG Optimus 2X and the Super Clear LCD-rocking Samsung I9003 Galaxy SL at hand so we set off to comparing and contrasting them. We even threw in a SuperAMOLED unit for good measure.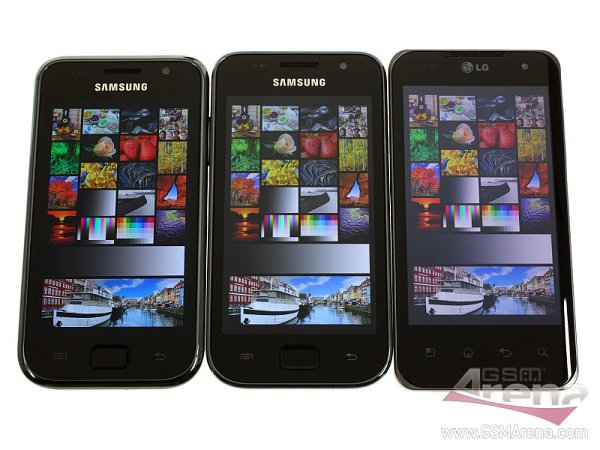 The LG Optimus 2X uses a new IPS LCD panel, which on paper at least, should be superior to other LCD units. Indeed we were pretty pleased to find that the screen has impressive viewing angles – everything remains legible even when you look from the very edge of the device. When you go for angles close to 180 degrees there is a subtle color shift and a more noticeable black tonality shift (depending from which direction you look at it) but it's still a great achievement compared to LG history of poor mobile phone displays.
However we were pleased to find that the Super Clear LCD of the Samsung I9003 is even more impressive as far as viewing angles are concerned. In fact both screens have way wider viewing angles than you might possibly need for any purposes practical.
Sunlight legibility was also a really pleasant surprise on both devices. We had no issues with their usability when we took them outside and even the colors didn't get too washed out. We'll call this one a tie.
Now we come to the two arguably most important aspects of a display performance – contrast and color rendition. We feel that the LG Optimus 2X has a slight edge here with its punchier, nicely saturated colors. The I9003 Galaxy SL does a decent job too, but its colors have a distinct cold cast that we don't particularly like.
Still, as you can see from both the still shots and the video, both handsets are way off the Super AMOLED deep black levels and color rendition. So if you hoped that this next generation of LCDs will finally be able to outdo the AMOLEDs, we will have to disappoint you. The limitations of the technology that relies on a single light source are just too hard to overcome.
On the plus side the LCDs lack some of the defects that these early generations of Super AMOLED displays exhibit, like the greenish tint when looked at from extreme angles. They also look slightly sharper due to the higher sub-pixel count.