Our LG Optimus 2X got its Android 2.3.4 update at the start of this month and we've playing with it ever since. And since the LG former flagship is once again becoming a smartphone many are considering (this time due to the lower price, not top functionality), we thought we might give you a rundown of the improvements we noticed.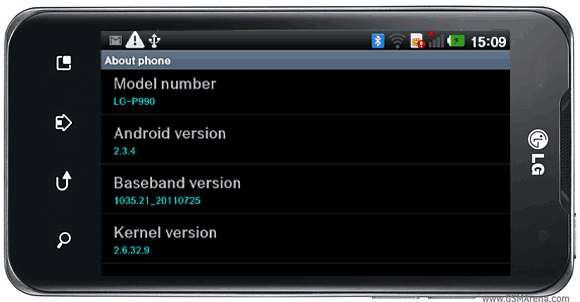 The truth is, Gingerbread is by far not as major an update as Froyo was and the Optimus 2X doesn't feel like a completely different phone after you get it – the overall experience is similar. However, you are free to disagree with us if the updated bits and pieces were just the one bothering you.
Performance-wise, we found the biggest upgrade to come in the LG Optimus 2X web browser. The stock browser got a nice speed boost thanks to the vastly improved JavaScript engine. Of course, the effect is only felt in pages that rely heavily on JavaScript, but those aren't too rare, so it's a step forward.
Here are a couple of browser benchmarks that come to back this observation of ours. As you can see, the change is quite dramatic.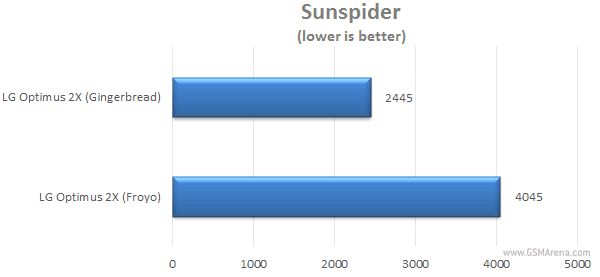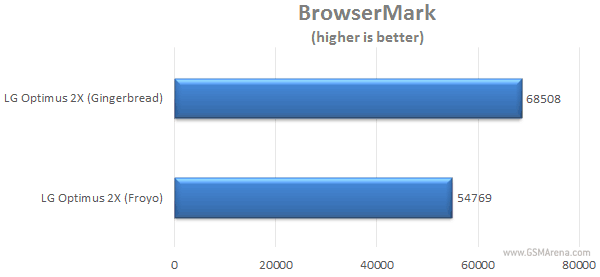 The other thing that many people will notice is the new copy/paste system that the Optimus 2X got. It's the usual Gingerbread thing, where you can easily readjust your selection with the two pointers that surround it. You just grab one and drag it to the start of the text you want marked, and then you grab the other and take it to the end – the trapeziums are properly sized to make that grabbing quite easy.
There are a couple of changes around the user interface as well – the status bar icons are new and there's the Gingerbread glow when you reach the end of a list plus a few other minor changed. Sadly, LG chose not to include the CRT-like screen-off effect the stock Gingerbread comes with.
According to some sources, the LG Optimus 2X Gingerbread update should have also brought about improved battery life, but the difference is either too subtle or totally nonexistent as we didn't quite feel it.
The camera hasn't been altered by the update either. We snapped a few shots before and after we the update and those were perfectly identical.