We've been all about QHD screens in the past couple of months, ever since the latest tech wave has had LG and Oppo at the forefront of the high-res display arms race by being among the first manufacturers to tout 1440p flagships.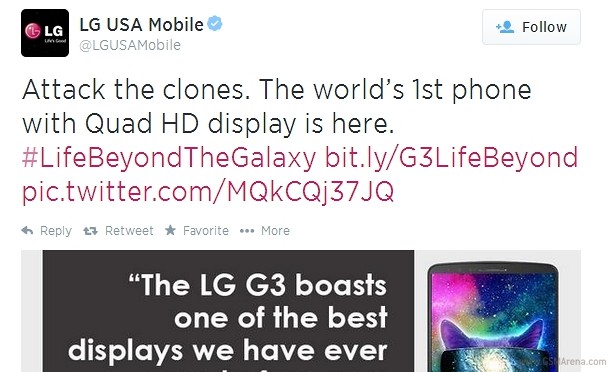 But who gets the first-place medal? LG claims that it takes the prize on Twitter, but Oppo has its own say in the matter.
Who's actually right is a different story, however, as it was another Chinese manufacturer, Vivo, who broke the seal with their Xplay 3S flagship, which boasted a 6-inch 1440 x 2560px display. The Xplay 3S saw official availability only in China, however, and both Oppo and LG were able to boost the ppi even higher by offering 5.5-inch panels of the same resolution.
After Vivo's offering, the race is pretty close as both devices became available at around the same time in their home markets. Late May saw the LG G3 hit Korea, while Oppo Find 7 preorders simultaneously shipped at that time in China.
As far as international availability goes, things are again close, as June saw the G3 squeeze in its release ahead of the Find 7, and in more markets to boot. The Oppo Find 7 does have the distinction of being announced ahead of its Korean rival, however.
For all intents and purposes, things are close enough between the two devices to call it a tie. As to which is the better smartphone, however, you can always turn to our comprehensive shootout review.