The LG Nitro HD for AT&T Wireless is the second smartphone with an HD screen to take a run on our battery test track. The HTC Rezound was the first device we tested with this type of screen and its achievement did not impress. We were thus curious to see how another competitor with similar spec sheet will fare in the same conditions.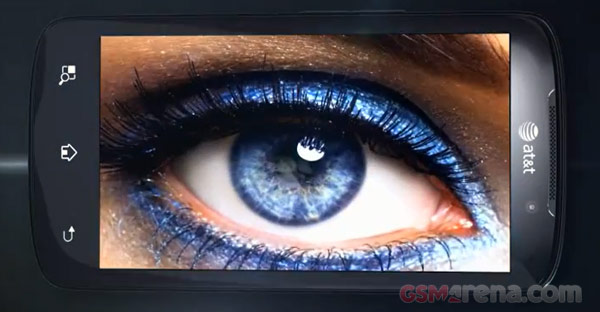 At a first glance, the 1830mAh Li-Ion battery of the LG Nitro HD looks beefy enough. It does however, have a lot of smartphone on its hands: starting with the bright AH-IPS screen with HD resolution, the dual-core CPU, an LTE radio and so on – the battery's task ahead is nothing short of massive.
As always, we begin with 3G talk time. We must point out here, that LG claims the modest 3 hours of talk time in its flagship's specifications. We managed the much easier to swallow, 5 hours and 16 minutes. While it is still better than the manufacturer's official number, the result is nevertheless the lowest we've seen in our test so far.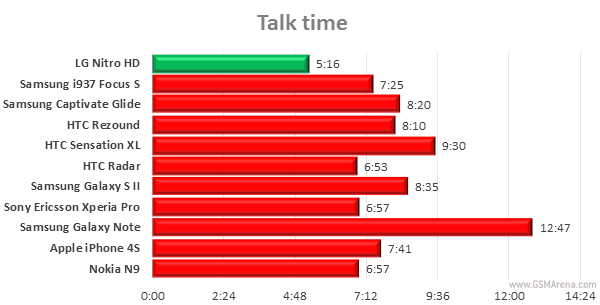 Things did not improve much in the web browsing part of our test. Here, the LG Nitro HD managed exactly 4 hours before its battery gave up on us. This is the second lowest score behind the Samsung Galaxy Note's.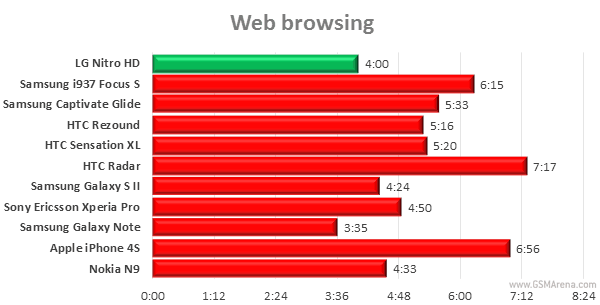 In the video playback section, the Nitro HD, again, achieved the lowest score we've seen on a mobile device to date with its time of 4 hours and 17 minutes. The HTC Rezound is the second worst in this section – a clear indication that, as gorgeous as the new HD screens are, they are far from energy efficient.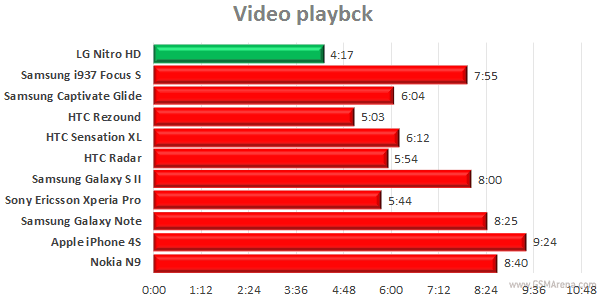 The final achievement of the LG Nitro HD should hardly be a surprise, given the results we saw in the above exercises. With 28 hours of endurance rating, the smartphone has the worst battery performance we've seen to date. Its score means that if you perform the three separate tasks which we tested above, you will have to recharge your phone every 28 hours.
Our suggestion however, is to carry a charger on you, just in case. Being a device with a gorgeous screen, the LG Nitro HD will surely prompt you to use it even more.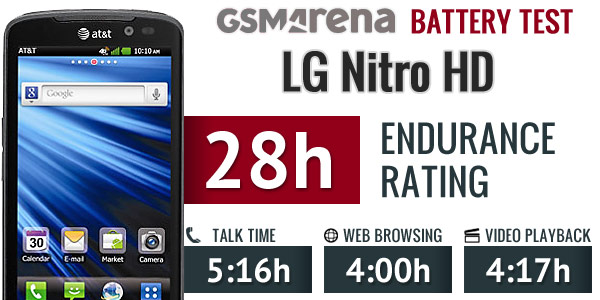 You can find out all the rest about the LG Nitro HD in our review here.