LG seems more focused on Windows Phone 7 than Android recently but it doesn't mean they have forgotten about their Google OS devices. In fact they just released the official Android 2.1 update for what seems to be their most successful handset this year, the LG GT540 Optimus.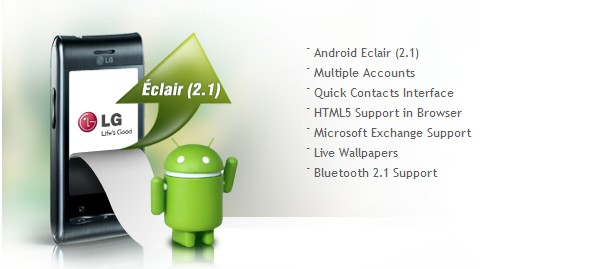 It's only available for the handset in the Baltic region at this stage so the rest of the world will have to wait a while longer. Or they could take matters in their own hands and use a third party tool to flash their handsets with that Baltic ROM.
Whenever the update becomes officially available for your region (and that shouldn't take long) you can follow the official instructions here to move house to Eclair.
The more impatient of you might follow the instructions here at their own risk and get the Baltic Éclair going on their handsets. The ROM itself can be downloaded from here. In case you were wondering, the UI languages offered are English, Russian, Ukrainian, Kazakh, Latvian, Lithuanian, Korean, Romanian and Estonian.
We already updated our in-house LG GT540 Optimus phone and so far everything is buttery smooth. Live wallpapers run great as well.
Here are some screenies. At first glance things don't look any different. But when you start to go through the menus, there are new settings here and there, there are new transitions effects as well.





The LG Home homescreen and menu look the same • the dialer has also been redesigned
LG has removed most of the third-party apps that came preinstalled with the default Android 1.6 ROM (such as Shazam or Layar) so there's a bit more free space for installing apps. Still you can download them from the Android Market.
The nice thing is the company has preinstalled custom versions of the Facebook and Twitter mobile apps.
You can now sync Facebook information to your phonebook. You can also sync with LG PC Suite on your computer.




The Facebook for LG app • the phonebook now syncs with Facebook
So far, so good. We're waiting for the update to get wider availability.