While LG was busy announcing the curved LG G Flex2 at CES 2015, subsidiary LG Display held a more obscure event for select few in what they called a "private showroom". What came out of that showroom was a photo of a 6-inch phablet with "Dual Edge" display, an even curvier version of the one we've seen on the Samsung Galaxy Note Edge.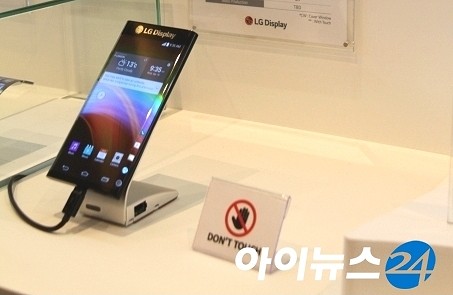 It is a competitive world out there, and with a version of Galaxy S6 with dual edge display pretty much confirmed, it was only natural for LG to cave in and offer a device with a display on each side. As previously noted, the Plastic OLED technology lends itself perfectly to such experiments, as it lacks global back-lighting, only firing the active non-black pixels.
We had the Galaxy Note Edge at the office and enjoyed it as a novelty, yet couldn't help but point out that the extra strip on the side doesn't always result in better usability. With LG's Dual Edge in development, it appears that manufacturers are committed to making us believe that's the way of the future, though.
Curves and edges being all the rage, one can't help but wonder when we'll see them all in the same device.