Lenovo's new Yoga Tablet 2 series has a lot going for it. It's slick, packs an amazing screen and will most likely be the coolest gadget on most conference tables.
Lenovo has once again taken a stab at redefining form factors and usage scenarios. The device is more "yoga" than ever with four distinct usage modes, including a hanging option. Throw in an integrated projector into the mix and you have got yourself the Lenovo Yoga Tablet 2 Pro – the shape shifter we are looking at today.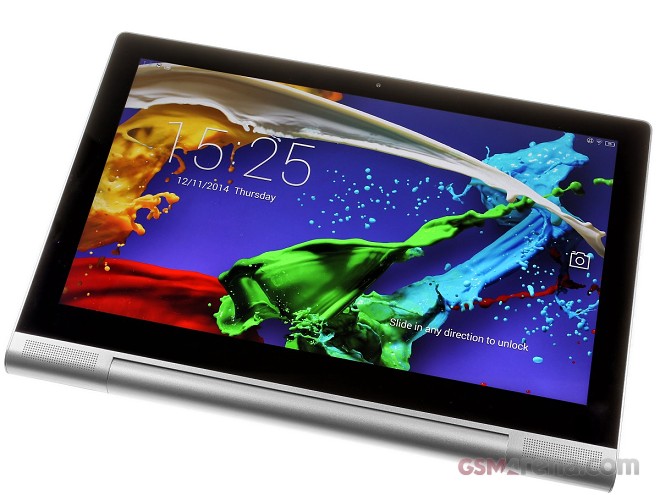 This unconventional gadget is by definition a tablet and a formidable one indeed. The Pro model is built around an Intel Atom Z3745 processor, which is quite capable of handling any office task you throw at it, all while going easy on the 9,600mAh built-in battery.
The core specs
Multi-tasking feels natural on the 13.3 inch 2560 x 1440 pixel IPS display with plenty of room to go around. The 2GB of RAM are on the low side though, considering there are phablets with more. Perhaps the centerpiece of the Yoga Tablet 2 Pro is the built-in DLP pico projector. It adds a whole new dimension to the tablet and a surprising number of additional uses for business and entertainment purposes.
Other hardware specs include a rather small 32GB on-board storage, expandable via a microSD card slot for an additional maximum of 64GB. The camera department boasts one 8MP shooter on the back and a 1.6MP selfie camera on the front. Connectivity options are solid with optional LTE, dual band Wi-Fi 802.11 a/b/g/n as well as 4.0 Bluetooth. A GPS chip is present, but a 13-inch navigator would not be ideal to begin with.
This particular unit, dubbed a Pro version, runs Android 4.4 KitKat, but interestingly enough Lenovo also offers a Windows 8.1 version with roughly the same hardware. The pricier Windows-powered variant improves on some features, it has double the RAM (4GB) and double the storage (64GB), but lacks the 8MP back camera and the projector.
Hardware and build quality
The Yoga Tablet 2 looks and feels very sturdy. As far as build quality goes Lenovo appear to be cutting no corners. Plastics on the device have a nice finish, especially on the back and the body is nicely rounded, allowing just enough grip without unnecessarily poking into places. Everything seems to be positioned just right, from the big and easy to access power button to the two large-chamber JBL speakers.
The device is rather large, however, clever design and distribution of weight make it surprisingly comfortable to hold with one hand for short periods of time. The bottom bar holds the stand assembly, the stereo speakers, power button, pico projector and last but not least the 9,600 mAh battery and naturally bears a lot of the unit's total weight. The tablet weighs almost a full kilogram (just over 2 pounds), but Lenovo's design is smart as the comfy rounded shape makes a great handle, which is crucial for maneuvering a 13.3 inch tablet.
A prominent design feature is of course the foldable stand. It is all metal, fits snugly when closed and definitely offers enough to support the tablet in any position. The hinge feels very tight and generally moves pretty fluently. It is held in place by a push mechanism, which when open gives the stand some free float away from the device. However this free position feels a little unnatural as when the stand reaches it upon closing it feels as if it almost snaps out of place. This is in no way an indication of poor build quality, but I do feel like the closing procedure is not very reassuring and actually kind of scary the first couple of times.
This stand supplies one of the main selling points for the Yoga Tablet 2 Pro, the four distinct usage modes. Lenovo describes them as Stand, Hold, Tilt and Hang.


The Lenovo Yoga Tablet 2 Pro in standing mode
The Standing mode is pretty much the signature look of the Yoga Tablet series. Being able to position and adjust the display in a vertical manner really helps usability. The tablet is difficult to tip over, but it does lack stability in two main respects when standing on a desk.
Firstly, the standing tablet does show some wobble when pressed. It's not much, but it's enough to make typing difficult after a while. A Bluetooth keyboard can turn the Yoga Tablet 2 Pro into a mini All-in-One and is preferred for text input.
Secondly the metal stand offers little to no traction and slides very easily across most common working surfaces. While doing so it not only allows the tablet to side ever-so slowly away from you while working, but also produces a horrifying scratching sound due to the sharp edges.
The same problem also plagues the so called tilt mode. While it provides a more comfortable angle for working with the touchscreen (much better for typing), sliding is still an issue.
The stand could perhaps benefit from some coating of rubber or other traction-friendly material, but a simple pad or mat instantly remedies the annoyance.
To ease the transition between the different modes, Lenovo Smart Switch detects the current position of the stand and orientation of the tablet and can switch between display and audio modes accordingly.
The 13.3 inch IPS display itself is nothing short of spectacular, QHD resolution makes everything look incredibly sharp, be it text or multimedia (especially coming from a laptop, which has a 1080p or worse screen on average). Fonts are scaled just right making everything easily visible. Viewing angles are pretty nice, too.


The 13-inch display is nice to look at
Android 4.4.4 KitKat
As far as software goes, the Yoga Tablet 2 Pro is beautifully executed in a stylish and clean manner, very much in tune with its physical design. It runs Android 4.4 KitKat and Lenovo's own LauncherHD delivers a tailor-made experience. The interface has beautiful animations and transitions and a rounded, flat design. Everything looks exceptionally sharp and the subtle icon transparency really adds a lot of style to the launcher.
Check out our Yoga Tablet 2 Pro hands-on video:
While using the device, however one can not shake the feeling that perhaps it resembles iOS a little bit too closely. Everything from the menus, all the way down to certain icons and the notification are and quick toggles feel as if they are lifted straight from an Apple device. Even the default wallpaper adds to the overwhelming impression. Placing everything on home screen (there is no app drawer) does not help either.
The launcher does have some prominent features of its own, some of which are absolutely essential for taking full advantage of the Yoga's hardware and features. The quick toggles are hidden away in a bottom ribbon, much like the one found in iOS, but are picked out to boost productivity.
This is one of the places where you can activate the projector, which works across every part of the UI and is as user-friendly as it gets with practically no setup required.
Another major productivity booster is also hidden away in the bottom left corner of the launcher. It is almost constantly present and controls Lenovo's own MultiWindow software. This is an absolute necessity for taking full advantage of the ample screen size, but you do have to keep things fairly straightforward.
The feature works great, spawning resizable, draggable app instances, but the current list of supported applications is rather short: Email, Gallery, Chrome, File Browser, Calculator and Video. That's enough to start, though more are needed to use the tablet to its full potential.
Unfortunately, easy access to copy and paste functionality and general data sharing between apps seems to be lacking (Samsung's implementation is ahead in this respect).
Performance
The Lenovo Yoga Tablet 2 Pro's quad-core Intel Atom Z3745 packs enough of a punch to power through any daily task. Menu surfing feels snappy and smooth, the 2560 x 1440 pixel QHD resolution rarely slows down the Intel HD Graphics GPU, with the occasional tears and frame-skips in graphically intense applications.
Detailed performance stats can be found below.
GeekBench 3
Higher is better
Apple iPad Air 2




4464

Xiaomi Mi Pad 7.9




3276

Samsung Galaxy Tab S 10.5 (Exynos)




2881

Galaxy Note Pro 12.2 (Exynos)




2703

Lenovo Yoga Tablet 2 Pro




2520

LG G Pad 10.1




1115
GFX 3.0 Manhattan (onscreen)
Higher is better
Apple iPad Air 2




24.7

Xiaomi Mi Pad 7.9




19.8

Lenovo Yoga Tablet 2 Pro




6.1

LG G Pad 10.1




3.8

Samsung Galaxy Tab S 10.5 (Exynos)




2.9

Galaxy Note Pro 12.2 (Exynos)




2.8
Update, 15 Dec: The graphical test score above has been corrected after we spotted a flaw in our testing procedure. The result is now correct and comparable to other devices.
8MP camera on a tablet
The Lenovo Yoga Tablet 2 Pro is equipped with two cameras – an 8MP f/2.2 Auto-focus back shooter and a 1.6MP HD front-facing camera. Neither of them are the best tablet cameras and the display resolution does not hide any imperfection when viewing the photos on the device itself.
The back camera is awkwardly placed right in the middle of the stand mechanism, but is adequate enough for a quick snap of a sketch or notes, which it is most likely to be used for. The 1.6MP front camera produces a decent video stream for a teleconference.
Here are a few photos we snapped with the 8MP camera:
Audio sub-system
Audio on the tablet is nice and crisp, although not as loud as you would expect from the two beefy speakers. Lenovo markets the sound on the Yoga as nothing short of sensational or at least that's the impression you get from reading the technical specifications, which literally state – " 2x large-chamber speakers, JBL subwoofer, Dolby Audio, Wolfson Master Hi-Fi Codec". Boy that was a lot of words!
Sound is quite alright, amazing even for a tablet. It's enhanced by the preinstalled Dolby Surround application, which offers equalizers and modes for fine-tuning the sound output.
Projector
The built-in projector is perhaps the most "out of the box" feature on the Lenovo Yoga Tablet 2 Pro. It blends in so naturally into the rounded handle, that there is a good chance for it to be left completely unnoticed if you don't know of its existence. Unlikely though, as Lenovo are using it as a cornerstone of its marketing campaign.
The concept behind it is fairly self-explanatory and being able to showcase something on the fly is a pretty appealing feature. The pico projector puts out around 50 lumens and can produce an image of 854 x 580 pixels. Focus is easily controlled through a slider and works quite well.
According to Lenovo, this is sufficient for a 50-inch projected picture, but don't count too much on the little DLP chip. Our rough measurements put the throw range for a 50-inch diagonal screen at about 2 meters. 50 lumens at that distance isn't much even in a dark room and colors seems significantly washed.
Under normal outside lighting it does seem feasible to produce a 30 or so inch visible image on a good reflective surface but under florescent lighting, commonly found in offices the projector is almost useless. Still, in proper lighting, or rather lack of it, the Lenovo Yoga Tablet 2 Pro could potentially be used to carry out a presentation to a small crowd, but serious multimedia is questionable.



Nicely packaged with JBL headphones as a bonus
Wrapping up
The Lenovo Yoga Tablet 2 Pro offers great performance, it uses all the right premium materials and it can definitely impress. It is, however, pretty much in a league of its own and not because it significantly outperforms its competitors, but simply because there are few devices like it. A 13.3 inch, kick-stand equipped, Android device with a built-in projector is not exactly what you'd call a common combination. Though perhaps we couldn't help but wonder if the pricier Windows Lenovo Yoga Tablet 2 doesn't make a little more sense in terms of usability and hardware utilization (we seriously wish it had the projector on though).
With a price tag of US $499.99 and a built-in kickstand, the Lenovo Yoga Tablet 2 Pro goes after a lot of high-end tablets and even Windows computers. However we're not sure whether its split personality is helping its case – it's heavy and thick at the bottom, suggesting it's intended for home use, but the portable projector can be a great perk to road warriors. Again, it's in a league of its own and perhaps does not need an exact mission statement to achieve success.