With the holiday season fast approaching every carrier is trying to get their lineup in the best shape possible. When the big spending starts, it's best that you have the hottest devices for people to splash their cash on right?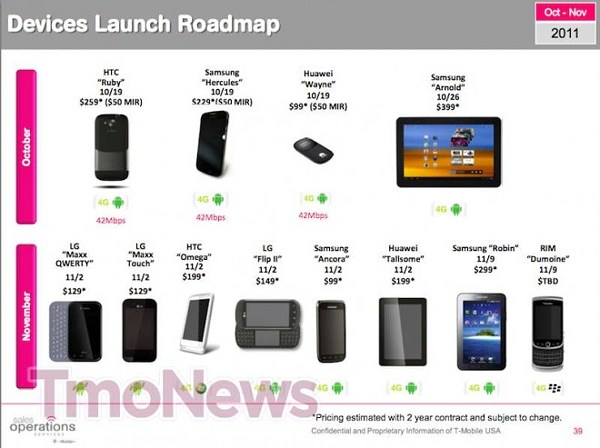 We just got hold of a leaked T-Mobile US roadmap and the we can confirm that the carrier has a couple of buys months ahead of it. There will be two hot new droids on the T-Mobile shelves as soon as this month with the Galaxy Tab 10.1 keeping them company.
The smartphones in question will be the Samsung Galaxy S II and the HTC Amaze 4G. Joining them will be the Huawei Sonic 4G Mobile Hotspot.
November is where it starts to get really interesting – no less than 6 new smartphones will join the T-Mobile lineup along with two tablets. The slates are both Android powered – the Galaxy Tab 7.0 Plus, which we previewed last week and the Huawei Tailsome.
As for the smartphones – Android leads the charge with four devices (Samsung Galaxy W, LG Flip II and a couple of LG handsets that are yet to be announced), while WP and BlackBerry have one new representative each (HTC Radar and BlackBerry Torch).
According to the source, the release dates mentioned on the roadmap are all valid with the exception of those for the Galaxy S II and Amaze 4G. We don't know if the pricing is equally accurate, though.
With the roadmap covering just October and the first half of November there's good chance that even more hot smartphones will be gathering under the T-Mobile flag until Christmas.