Plans for a cool Android Honeycomb tablet have leaked from the Lenovo secret layer. Basically, the Lenovo ThinkPad Tablet/Slate (they don't seem to have settled on the name yet) is a 10.1" Android tablet powered by Tegra 2 and can dock with a keyboard (a la Eee Pad Transformer) and use a stylus (think HTC Flyer).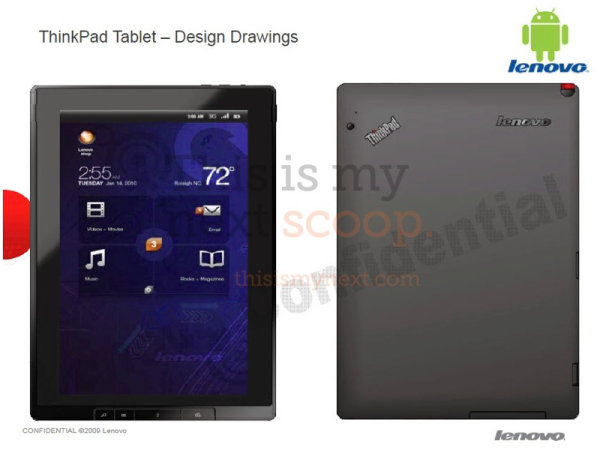 Leaked slides show ambitious plans for the business-oriented tablet and pretty much all the (not finalized) specs…
Physically, the Lenovo ThinkPad Tablet is centered around a 10.1" IPS capacitive touchscreen with a 1280 x 800 pixels resolution. The tablet measures 258.4 x 177.3 x 14 (bigger than most other 10-inch tablets) and weighs 715g.
The tablet will run Android 3.0 Honeycomb with a customized UI. But it's the keyboard dock that's the most interesting aspect of the Lenovo ThinkPad Tablet – a full QWERTY keyboard with complete with touchpad. It's not clear if the dock has an additional battery, but the battery inside the tablet itself is planned to offer 8 hours of usage (with Wi-Fi).
On the inside, the ThinkPad Tablet (or Slate) will have a dual-core Tegra 2 chipset, front and back cameras and impressive connectivity options – 3G, 4G (that one is "pending development), Wi-Fi and Bluetooth make the list along with miniHDMI, microUSB, USB host (for keyboards, USB storage, etc).
There's an SD card slot too (better than microSD for tablets if you ask me), for expanding the 16GB/32GB/64GB internal memory and offers data encryption (as does the internal memory).
This is just part of the business-specific stuff that the Lenovo ThinkPad Tablet offers – companies can buy the tablet with a customized ROM (so they can preload apps and so on) and even restrict the tablet to their company's app store.
Aside from the keyboard dock, the ThinkPad Tablet also offers stylus input for sketching, note taking and so on.
Lenovo's plans to launch the tablet in July for $499, which works out to €340, likely for the 16GB version. The keyboard dock is optional and its pricing is unclear. The stylus is also optional.