A leaked video demo reveals the HP Slatebook 14 – an Android-powered laptop with a 14″ 1080p touchscreen. It's not a hybrid (detachable tablet + keyboard dock) like the Slatebook X2, nor is it a dual-boot device, it's pure Android.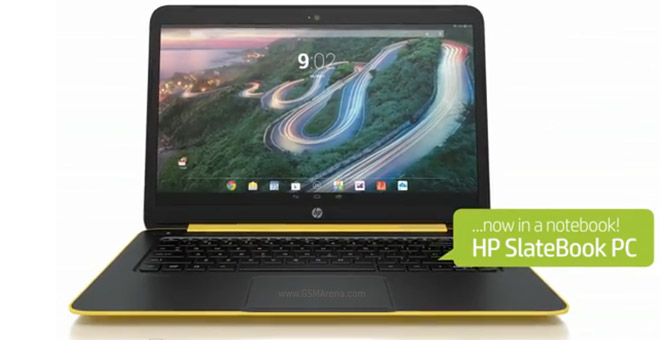 The specs are a bit unclear, but the video is promising a slim and lightweight design. Without the need for a second battery behind the screen like on the Slatebook X2, this new device should be thinner than 20mm.
It's positioned as an affordable device, though so we shouldn't expect anything too cheap. The body seems to be made of polycarbonate and will likely be available in bright colors.
The HP Slatebook 14 features a 1080p screen, but a cheaper version with a lower screen resolution might be available too. It will be powered by Tegra 4 with rumored 2GB RAM and 16GB storage, expandable via a microSD card slot. The Android version is unclear, but it's rumored to be 4.2 Jelly Bean.
There are also three full size USB 2.0 ports, a full-size HDMI port, Wi-Fi and Bluetooth. The connectivity features include a SIM card slot, presumably for HP DataPass. The Slatebook 14 also packs Beats audio speakers.
Note that the HP Slatebook 14 isn't official yet, but with Computex 2014 just around the corner (it starts June 3) it should be announced fairly soon. Until then, check out the video in question:
Source (in Italian)