The Nokia Lumia 1020 / 909 / EOS (there are competing reports of what it will actually be the final name) will launch on July 11 and go on sale as soon as August (or even this month) and now we're even starting to see accessory leaks.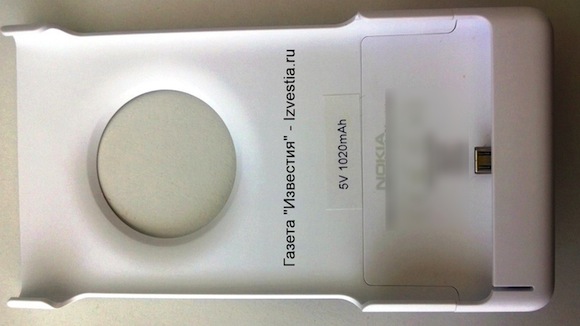 The first to leak is a battery pack that adds another 1,020mAh of juice, an extra 35% according to Izestia.ru. That would put the Lumia 1020 battery at around 2,900mAh as well as provide a very comfortable grip that will improve the EOS handling as a camera.
The battery pack adds more than just battery capacity – reportedly it also has a bulging grip on the back like cameras have along with a tripod mount.
The battery pack has holes for the camera shutter key and the protruding 41MP camera on the back. The pack plugs into the phone's microUSB jack, which is strange because there are two pins visible in leaked images of the back – it's what the wireless charging covers for the Lumia 720, 820 and 925 use.
Speaking of which it's not clear if this cover adds wireless charging (the Nokia Lumia 1020 probably doesn't have it built-in, otherwise there would be no need for the two pins). Keep in mind that this could be a third-party accessory or even a fake image altogether.