Leak is a new service that lets users send anonymous email to others. You just have to go to the website, enter the person's email ID, choose if want to be identified as a friend, co worker, family member, friend of a friend or just 'someone', type out your mail and send it.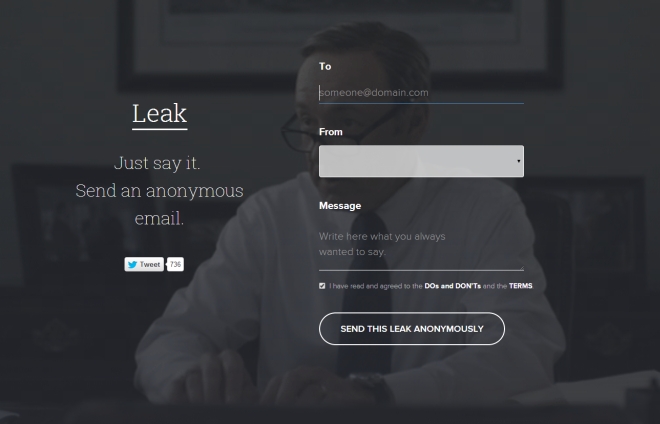 The other person will receive the email from Leak, which does not, in any way, reveal your true identity other than how you chose to be described. This allows you to be open with them without revealing who you really are.
If you are on the receiving end of these emails and do not wish to receive any further mails via Leak, you can choose to unlist your email ID so no one will be able to send you any more emails via Leak.
This somewhat reminds me of the social network Secret, except in this case you are being very direct instead of just shouting into the void, the other person is the only one reading the message and you have more space to type out your message. As with Secret, Leak advises its users not to misuse the service to threaten or harass people anonymously. If you visit Secret you'll notice no one takes this advice seriously and Leak is likely to be misused similarly but at least you have the option to prevent receiving any further mails from them.
Other than letting you send mails anonymously, Leak also showcases some of the best mails on their website (anonymously, of course). Best of all, you can even subscribe to receive these emails of the week every Monday in your inbox.