We've seen bendable screens from both Samsung and LG but Japanese tech company Kyocera has been working on the problem since 2009. Kyocera's concept is called the Proteus, which will be a smartphone that's bendy enough to turn into a bracelet.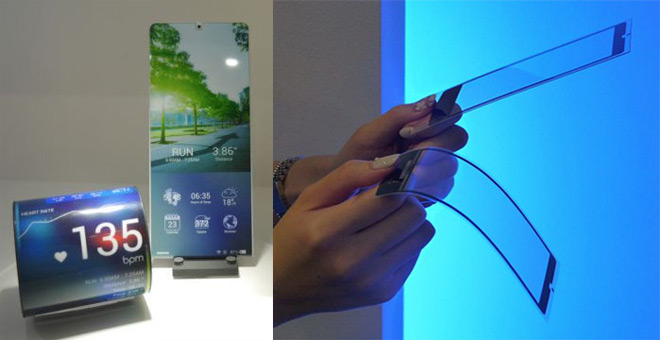 AMOLED seems to be the popular choice of display tech here, but Kyocera wants to take it further and create a bezel-less display with a physical keypad that appears and disappears on demand.
To achieve that something called shape memory might be used – it's flat by default, but will take a predefined form when activated. We've seen a similar concept called Tactus.
Anyway, what will set the Kyocera Proteus apart from the likes of LG G Flex and Samsung Galaxy Round (and even Will.I.Am's Puls bracelet) is that it can take the shape of either a smartphone or a bracelet, while the current devices are fixed to one form factor. Instead of wearing it on their hand, the user will have the option of warping the Proteus around a bicycle's handlebar to use as a bike computer.
The inside of the bracelet will feature biometric sensors (heart rate monitor and such), while pieozoelectric elements might be used to generate electricity from the physical action of bending the device. The battery for the handset will either have to be flexible or it could be composed of multiple segments (which will be easier to pull off with current tech).
Kyocera showed off a prototype of the Proteus at the largest Japanese consumer electronics show, CEATEC, but as you can tell the company's demo was filled with future-looking statements, the device is still far from a retail reality.