Memory cards are one of the most ubiquitous and essential accessories of today's mobile devices. And in a mobile world where HD content is quickly becoming the standard, one's mobile device just can't have enough memory. The latest creation from Kingmax should (at least temporarily) be able to satisfy the most memory hungry mobile users. At 64GB of available storage, it is the largest capacity microSD card to date.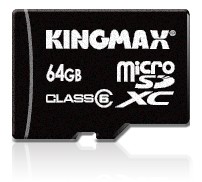 The new card is from class 6 and features the 9 Stacked Die technology. It is compliant with the newest SD 3.0 specifications along with the older standards. It has a built in Error Correction Code along with Wear Leveling Algorithm for maximizing its lifetime. Kingmax must be quite confident in their latest creation since they will back it with a lifetime warranty.
So far, there is no info on a release date or price. While we are reasonably confident that the largest microSD card will hit the market soon, we surely do not expect it to be cheap at launch.