Microsoft launched the pre-order campaign of Xbox 360 motion-controller – Kinect. It's currently available only within USA and costs 150 US dollars direct from Microsoft's web store.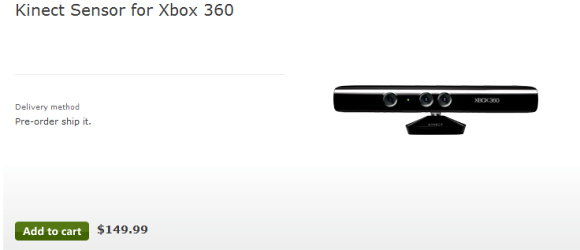 The Kinect controller is compatible with all Xbox 360 models, but you will need at least 170MB of storage space for its drivers. That means the first Arcade editions of the console are out of luck unless they've been upgraded with a hard drive or a flash drive.
For now the Kinect sales package contains the Kinect controller, a power supply cable, user's manual and Wi-Fi extension cable. Honestly, I don't have a clue what the last cable is. As far as I understand every Xbox 360 out there except Slim will need an adapter to connect with the Kinect. This may be the purpose of the extension cable.
What I really wanted to see for that kind of money is at least one pre-bundled motion-controlled game.
If you want Kinect, be sure you have at least 6 feet (or 1.8m) of free space in front of your TV set. All that's left is shelling out the cash for pre-order here.