The analysts from IDC just published their report on the global tablet market in the last quarter of last year and it appears that the picture was pretty much what we saw throughout 2011. Android is improving rapidly, but Apple's iOS is still the king of the hill, accounting for more than half of all sales.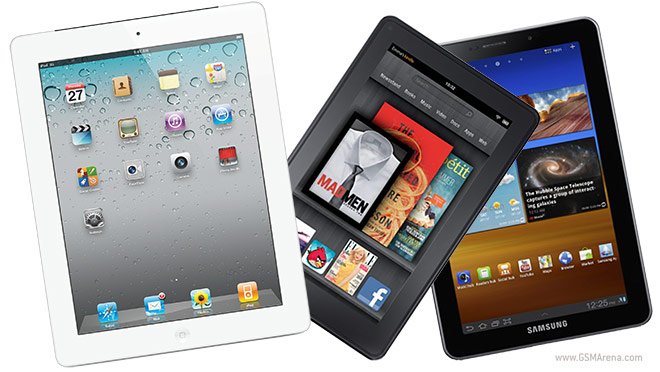 Apple managed to ship 15.4 million units in Q4 of last year, which secured them a market share of 54.7% (down from 61.5% in Q3). The best performer of the quarter was obviously the Amazon Kindle Fire, which got a share of 16.8% even though it was only on sale for a month and a half.
Samsung managed to extend its market share by 0.3 percent points, but with a total of 5.8% remains a distant third. Still it played an important part in increasing the Android market share from 32.3% to 44.6% in the last quarter of the year.
The BlackBerry PlayBook is almost completely out of the race, its share slipping from 1.1% to 0.7%, despite getting several price cuts.
With Android vendors hesitant to release major new tablets in the current quarter, we expect the Apple share to go up in Q1 of 2012, thanks to the launch of the new iPad. Its 2048 x 1536 screen will certainly have a huge impact on the tablet market as a whole.
On the Android side, it will be interesting to see if the Kindle Fire will manage to deliver an equally strong performance in the post-holiday quarter. Huawei's quad-core MediPad 10 FHD and the S Pen-enabled Samsung Galaxy Note 10.1 are also worth keeping an eye on, but none of them will actually make it to the market before the end of the market.