Today Amazon UK started the sales the sales of the Kindle Fire HDX 7 slate. It is available for purchase at the retailer's website and costs £199 for the 16GB ad-supported version.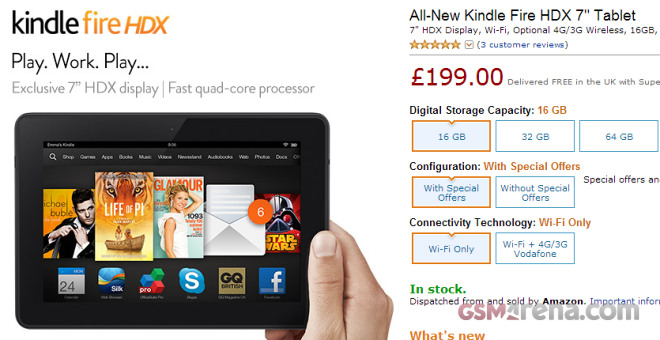 If you add £10 more you can get the ad-free model.
An LTE-enabled Kindle Fire HDX 7 is available too. It costs £269 (ad-supported), but you'll have to wait until November 27 for it.
Amazon Kindle Fire HDX has a 7″ IPS display of 1920x1200px resolution and is powered by the latest and greatest Snapdragon 800 chipset. The Amazon's OS is based on Android Jelly Bean, but is highly customized and has lots of restrictions, most notable of which is the lack of Play Store access.
So if having the Amazon Appstore as you solitary app repository doesn't bother you and you If you live in the UK, now is the time to get one. Its HDX 8.9 sibling is coming on November 19, starting at £329.