Who says no one reads anymore – certainly not Amazon. With their just announced Kindle DX shipping to over 100 countries with global 3G Internet coverage, future populations just might not forget how to read texts over 140 characters long.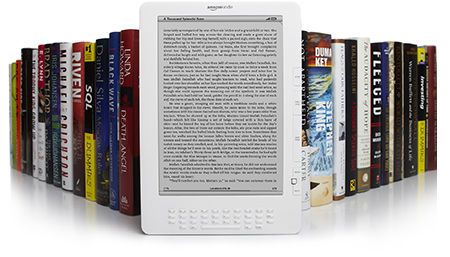 Both Kindles feature e-ink displays – the new Kindle DX has a 9.7" screen with 1200 x 824 pixel resolution at 150 ppi, 16-level gray scale, while the regular Kindle has a 6" display with 600 x 800 pixel resolution at 167 ppi, 16-level gray scale.
Amazon Kindle features native support for PDF documents, DOC files as well as, plus MP3 and image files. It features a microUSB port and 3.5mm audio jack, plus built-in stereo speakers. The Kindle DX can store up to 3500 ebooks, while the 6" Kindle "only" 1500 of those.
That's nothing ground-breaking about the new Kindle DX, but that's if you don't count the new killer feature – global wireless data plan called Whispernet. Whispernet uses the 3G GSM network where available or EDGE in other areas and let's you download content from the Kindle Store free of data charges (no matter what country you go to). Here's the Whispernet coverage map. Make sure you check out the per-country rules.
You can use your Kindle to browse the Internet too, but that could be subject to additional charges.
For US customers traveling abroad there's a $1.99 fee even when downloading books. They will also get charged for downloading personal files and for downloading individual issues of magazines and newspapers. For subscriptions, there's a weekly fee. Again, this is just for US customers traveling with their Kindle abroad. You can transfer files through your computer and avoid those charges.
So, it's not quite the Hitchhiker's Guide that xkcd makes it out to be, but still the main task – reading books, newspapers and magazines is uncompromised. There are over 400,000 books, 80 US and international newspapers and 40 magazines and they're not subject to data charges.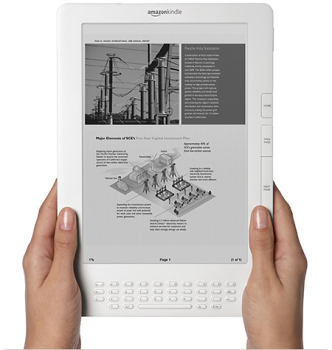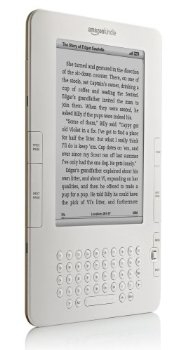 Kindle DX has a 9.7″ E Ink screen • The regular Kindle has a 6″ screen
Books costs relatively less than their paper counterparts (about 10 US dollars for current popular books like Dan Brown's Lost Symbol) and it's 1.49 dollars for a monthly subscription to Time magazine. You can also subscribe to blogs for free and browse Wikipedia.
The Kindle DX with global wireless will be available on January 19 for 489 US dollars (340 euro) while the regular Kindle with global wireless is 259 US dollars (180 euro) and is already in stock.