The Google Nexus 4 is a much sought after phone, but we finally managed to secure a review unit. As usual, we're going to take it for a quick spin in front of our camera before we get to writing our review.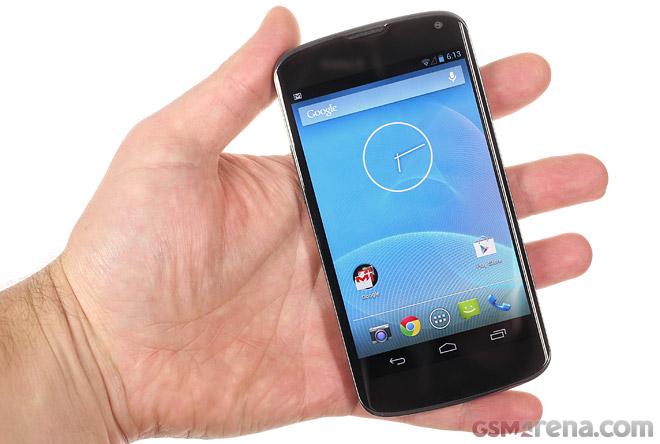 While the quad-core Krait processor and the 4.7″ WXGA screen are great, we have to admit we spent quite a while just playing with the back.
The back is made of Gorilla Glass, but what's below it is more interesting – a pattern of reflective dots that seem to move around like a live wallpaper.
Anyway, the front of the Google Nexus 4 is almost identical to that of its predecessor, the Galaxy Nexus, though the curved left and right edges of the front Gorilla Glass panel are a nice touch. The screen itself is pretty great – sharp due to the 318ppi pixel density and with great viewing angles thanks to LG's True HD IPS Plus tech.
The back as we already mentioned in made of Gorillas glass, like the back of the LG Optimus G (the phone the Nexus 4 is based on). Its non-removable, so you don't have access to the 2100mAh Li-Ion battery and there's no microSD card slot. You have to make do with the relatively limiting 8GB or 16GB internal storage options.
Android 4.2 didn't bring enough changes to qualify for a new name – it's still called Jelly Bean – but it does have some interesting new features. Have a look at the video below for more details.
We already have an Optimus G review under our belt, it's time to see how the Google Nexus 4 fares.