One of the most popular games of all times recently announced a sequel after coming into existence nearly four years ago. Plants vs. Zombies 2 is supposed to be everything we loved about the original game made even better. The game has finally been released on iOS and is available for download on your iPhone, iPad and iPod touch.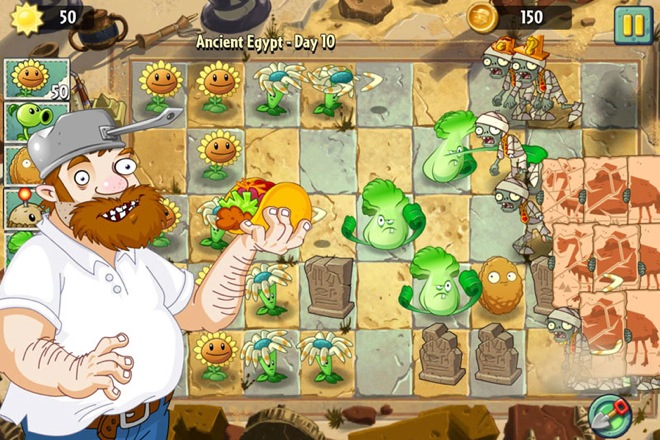 Plants vs. Zombies 2 is essentially similar to the original game in terms of gameplay. This is still a tower defense game where you plant various plants with different attack and defense abilities to protect your territory from a zombie attack. Plants vs. Zombies 2 improves upon its predecessors by introducing new areas, new plants and new zombies.
The previous game was mostly limited to your front yard and the rooftop and you had no way to play previous levels or see upcoming levels. Plants vs. Zombies 2 changes that by introducing a world map. You have three worlds right now placed across different time periods: Ancient Egypt, Pirate Seas and Wild West and more will be coming later. Each world has a different level design with new features and different challenges specific to that area.
Plants vs. Zombies 2 also adds several new plants, such as the Bonk Choy, which is a short range melee plant that specializes in offense but isn't very good at defense. There are new zombies as well, such as the Chicken Wrangler zombie that unleashes a bunch of furious chickens onto the game map after you attack it. Of course, all your previous plants and zombies are still there and better than ever.
The visuals have also been updated. The artwork is much nicer now and the game worlds are more varied and detailed. You can also see the improvements in the animation, such as the way the Peashooter now actually brings up the pea from its stalk before shooting. What's strange is that for a game releasing in 2013 Plants vs. Zombies 2 has no support for devices with the Retina display and runs at lower resolution.
The game is now available for download on the App Store and is completely free. Of course, that means there is a ton of in-app purchase but none of it is mandatory. For now the game is only available on iOS but I suspect an Android version should be arriving shortly.