Some blurry iPod Touch 4G photos have just surfaced today. They show an unseen prototype of the 4th generation iPod Touch with a touch-sensitive Home button.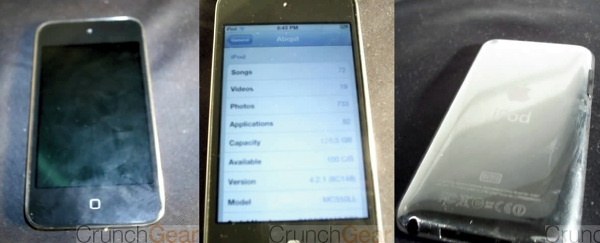 The device runs on the iOS 4.2.1, packs 128GB storage and has a MC550LL model number.
The rest is pretty much the same as the released iPod Touch 4G.
This device is most probably fake or a rejected prototype because of a very obvious reason – you will accidentally close every app/game that requires two-handed interactions. A touch Home key will turn the iPod Touch unusable in landscape mode.
Another explanation is that this might be just a testing prototype for the new multi-touch multi-tasking gestures. Rumors say Apple is trying to get rid of the Home key and this device may have been used for testing purposes.
It may also be an early rejected version of the iPod Touch 4G.
There is no chance though this could be upcoming unannounced version of the iPod Touch. It does not make sense, it's hardly usable this way and it's already time for the iPhone 5 and the iPod Touch 5G.