As usual Apple didn't specify the amount of RAM on the iPhone 4S announcement, nor is it mentioned on the official website. We are still a few days ahead of the iPhone 4S launch, so no one has disassembled it yet to discover what's hiding inside the shell.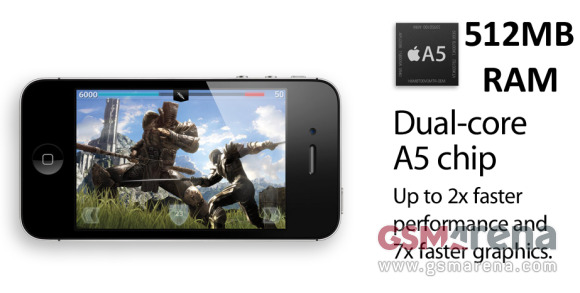 Still, there are iPhone 4S shipped to developers for months, so we can still have a confirmation on some specs before we get it in our hands. That's the case here – the creative director of Infinity Blade 2 talks how cool is the new iPhone 4S:
"I'm still shocked that, with the iPhone 4S, I'm literally running around with a 1080p video camera in my pocket, with an eight megapixel camera, 64GB of hard drive space and an A5 chip with 512MB of memory. This is a really powerful computer, right?"
So, it's true. The iPhone 4S has the same amount of RAM as the iPhone 4 – 512MB. We still hope the early iPhone 4S units given to Chair Entertainment might be different from the final unit, but it just doesn't make sense – you won't give a crippled unit to a developer that is preparing one of the hallmark iOS titles and will demonstrate it on the 4S announcement.
We guess we'll find the truth in a few days.