So, Apple has just announced the next iPhone – 4S – with big improvements in the camera department. The iPhone 4S packs an 8 megapixel camera with LED flash and 1080p camcorder. But that's just the beginning.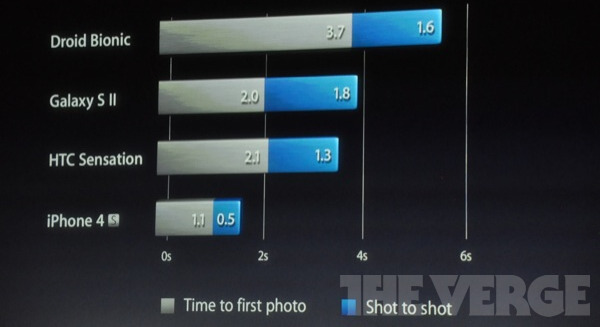 First you get lots of new technology improvements – back-illuminated sensor with 5 elements lens, F/2.4 aperture, hybrid IR filter, etc. So, all this new stuff will get you better colors, better noise performance, more sharpness and better white balance. There is face detection and the HDR feature is present too along with an AE/AF lock.
But the iPhone 4S has lots of (cameraphone) competitors already available, so it needs to do better. According to Apple, the iPhone 4S camera might just be the fastest cameraphone around. We have to see if it is the best for real, but we get some really impressive times for the first photo and shot-to-shot.
As Apple claims, the iPhone 4S camera needs just 1.1 seconds to take its first photo and just half a second for the next one. This is a lot better from everything we've seen so far, or at least Apple wants us to believe so.
Nokia has already proclaimed its upcoming N9 for the fastest camera phone, but the N9 needs 2.6 seconds for the same task.
The rest of the improvements concern the iPhone 4S video recording capabilities – you now get 1080p video recording with image stabilization and temporal noise reduction. We are yet to see how those will perform.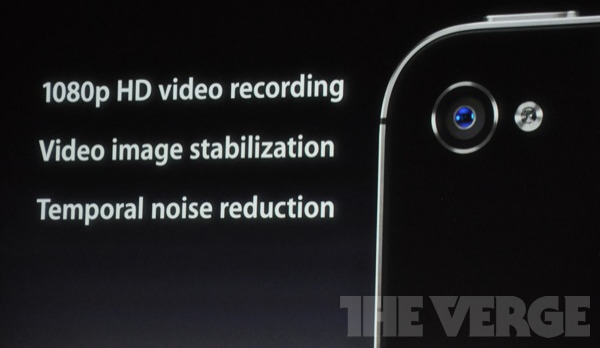 Well, it seems the already popular cameraphone iPhone 4 will get a worthy successor. Well, the iPhone platform may have been off to a slow start in the camera department, but Apple is finally picking up speed. Though, they are not quote setting the pace in the industry this time around.