The Apple iPad is the most popular tablet hands down and unsurprisingly it dominates the web traffic share in the US and Canada with 87% in the month of December (was 88% in November).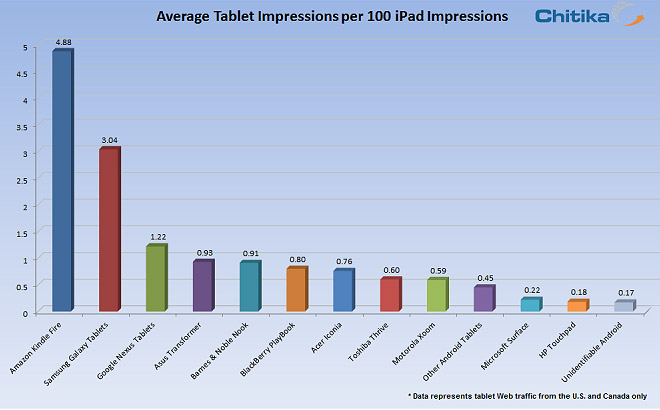 The data comes from Chitika Insights who use it as a yard stick. Which means that for every 100 web page impressions attributed to the iPad family, the Amazon Kindle Fire line accounts for just under 5 impressions. That works out to 4.25% of the web traffic in total.
The Kindle Fire is the most popular tablet after the iPads (measured by web traffic) and grew 20% compared to last month.
Samsung's Galaxy tablet line comes in third in popularity, with a 2.65% web traffic share for December (up from 2.36%). This is also the most popular pure Android line (that is not heavily customized like the Kindle Fires and B&N Nook Tablets), beating out the Nexus line.
Google's tablets are relatively new but it grew 15% month over month, going from 0.91% in November to 1.06% in December.
Microsoft's big effort to promote the Surface tablet doesn't seem to be paying off so far – according to Chitika's numbers, it narrowly beats the now defunct HP TouchPad. It did grow a bit (it was behind the TouchPad last month) but it's gaining market share slower than the competition.