Apple started seeding out iOS 6.1 Beta 5 to registered iOS developers over the weekend. The update comes over a month after the last update was released to developers.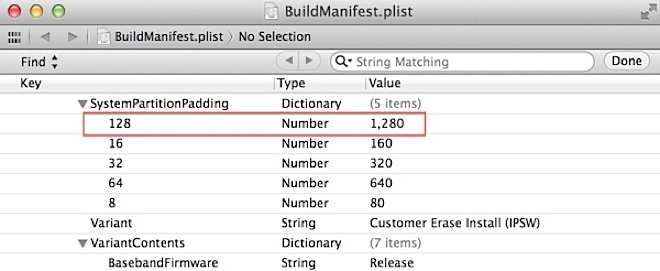 Along with the usual bug fixes and performance improvements, this new version of iOS also includes an interesting tidbit of information that a lot of people have been looking forward to; a mention of a 128GB version of an iOS device.
The reference comes as part of SystemPartitionPadding key in the build manifest associated with iOS 6.1 Beta 5. However, there is no clarity on which particular device it is referring to.

Luckily, 9to5Mac have come across mention of four 128GB iPad models in a US retailer's database. We can see four models, indicating the Wi-Fi and Wi-Fi + Cellular models in black and white each. The model is also described as 'ULTIMATE', as opposed to 'GOOD', 'BETTER', and 'BEST', used for the current 16, 32 and 64GB models, which suggests that the 128GB model will be an addition rather than replacement for the current 64GB model (and the subsequent changes down the line).
So it seems we can be sure of at least the iPad having a 128GB capacity option in its next revision. It remains to be seen if the iPhone and the iPod touch get the same treatment.