The first iOS 5 beta launched soon after the official announcement at the Apple's WWDC. As usual, it's available for developers only and unless you are one or you managed to add your iGadget UDID into a developer's account, then you can't have it.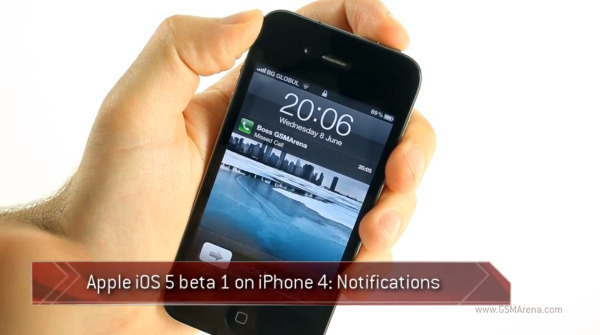 Fortunately, we got iOS 5 installed on two iPhone 4. Our preview is almost ready and should become available later today. And while we are crossing the t's and dotting the lower case j's we thought we might give you a little something in advance to keep you busy.
For starters here's a very quick demo of how the notifications work on iOS 5:
See, it's quite simple – you can have them on the lockscreen, on the Notification Center (just like in Android) or on your homescreen as banners or pop-ups.
We found out at least three interesting features that weren't announced at the conference, nor were mentioned on the Apple website. In iOS 5 there are finally customizable notification tones of the emails, the voicemail and the calendar alerts.
We also found out a new gesture working when the camera is on – a side slide to the right will bring you the gallery with the latest capture photo. If you slide the opposite direction you're back to the camera viewfinder. Nice, but also familiar. WP7, anyone?
And finally there is a useful storage management section where you can see all your installed apps and their additional data.
This and a lot more – in our iOS 5 preview later today. Stay tuned!