Apple demonstrated a lot of new features in the iOS 5 camera application in their recent events but they missed out on one: panorama mode. That's because this option is not available to users and has to be unlocked manually.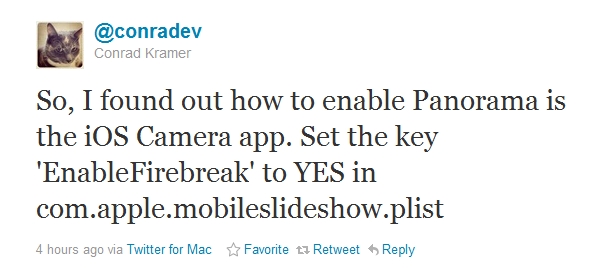 To unlock this feature, you first need to have a developer account. According to the developer who found it, you will first need to locate com.apple.mobileslideshow.plist on your device. After that you add a Boolean value named 'EnableFirebreak' (without the quotes) and set it to ON. After that you need to reboot the device and then head to the camera app to find Panorama in the Options menu.
The feature works similarly to the way it does in most cameras, where you have to press the shutter button and smoothly move the phone from one direction to another and then the phone will automatically stitch the images. However, in its current state it doesn't work very well, which explains why it is not available by default to the general user. Perhaps by next version it will be in a proper working state and available for use to anyone.
To see the feature in action and to see how it is activated, check out the video below.