Well, that didn't last long – iOS 4.0.2 (which came out a couple of days ago) has already been jailbroken. For now, the jailbreak works only with iPhone 3G and iPod Touch 2G, but it still shows that the latest version is jailbreakable too.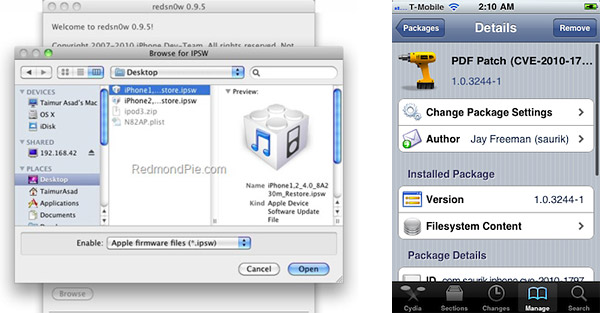 Also, users of the original iPhone and iPod Touch aren't getting patches from Apple, so they'll have to live with the PDF security hole. Unless they jailbreak…
It turns out that the existing version of Redsn0w can jailbreak the patched iOS running on an iPhone 3G (that isn't unlocked) or iPhone Touch 2G (it must be a non-MC unit). Here are the instructions on how to do it. As for iPhone 3GS and iPhone 4, there's no way to break the shackles of iOS 4.0.2 just yet.
And if you're running an old device – the original iPhone and iPod Touch – you probably know that they are vulnerable to the PDF exploit too, though Apple won't be patching those. Don't worry, if you have jailbroken your device, you can get a patch from Cydia that fixes the problem (look for "PDF Patch").
Source: Redmond Pie, iPhone Dev Team blog