Intel's Ivy Bridge CPUs took some time getting here and their replacements are already on the horizon – a leaked spec table details the first round of Haswell processors that are coming in Q2 of 2013. Haswell is a Tock in Intel's Tick Tock strategy – same manufacturing process as before (22nm), but a new microarchitecture.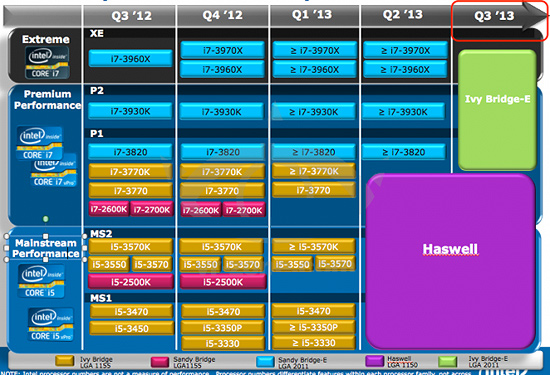 The new CPUs are Core i7 and i5 models, both standard and low-power versions. The flagship model is the Core i7 4770K with four cores (eight threads) clocked at 3.5GHz with Turbo Boost up to 3.9GHz and 8MB of cache.
The new chips use a new socket – LGA 1150 with Lynx Point chipsets (so you'll need a new motherboard). The maximum TDPs have moved up a bit – 84W, compared to Ivy Bridge's 77W (Sandy Bridge was 95W).
The built-in GPU has been updated – it's listed as HD 4600 for all Haswell chips. It's not clear what the difference between the new GPU and the HD 4000 in Ivy Bridge is, though.
Anyway, here is the table with the upcoming Haswell processors. They range from high-end to mid-range, with TDP going from 84W at the top to 35W (one of those is a quad-core i7 too). Note that K models have unlocked multipliers, while S are low-power models and T are ultra-low power models.

The low-end for the next-gen Core lineup, the i3s, will be coming in Q3 of 2013. The Ivy Bridge architecture isn't done yet, thoguh – the Ivy Bridge-E models will be coming in Q3 as well and will use the current LGA 2011 socket (E models have up to eight cores).