Intel has been gunning after ARM in the mobile space for a while now and the chip giant may have an ace up its sleeve – a Y-series Haswell processor with SDP of only 4.5W. This should be low-enough to go into relatively small and light tablets as it's close to the power draw of ARM chipsets.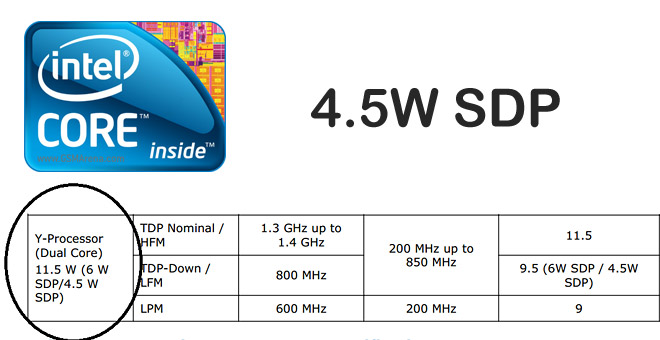 The chip features a dual-core processor that comes in two versions – 6.5W SDP and 4.5W SDP, both having the same TDP, 11.5W. In case you've missed the new terminology, TDP is the maximum power draw (CPU and GPU at full throttle), while SDP is a target for "regular" usage.
The processor is clocked at 1.3GHz and can reach 1.4GHz max, while the GPU goes between 200MHz and 850MHz (the GPU model is unknown at the moment).
Keep in mind this is a proper Core part, not an Atom, so even at a relatively low clock speed it should offer great performance. To put it in perspective, the new Apple MacBook Air has a dual-core Core i5 at 1.3GHz with max turbo frequency of 2.6GHz.
Of course, this new chip isn't exactly official yet – it was found buried in a data sheet about low-power Intel CPUs – but we'll keep our fingers crossed it makes it to a tablet soon.