Intel has provided additional details about it's upcoming fourth generation of Core processors (codenamed Haswell) specifically related to the GPU that will be running in these chips. But most importantly, they have also announced a new brand of high-end integrated mobile GPUs called Intel Iris.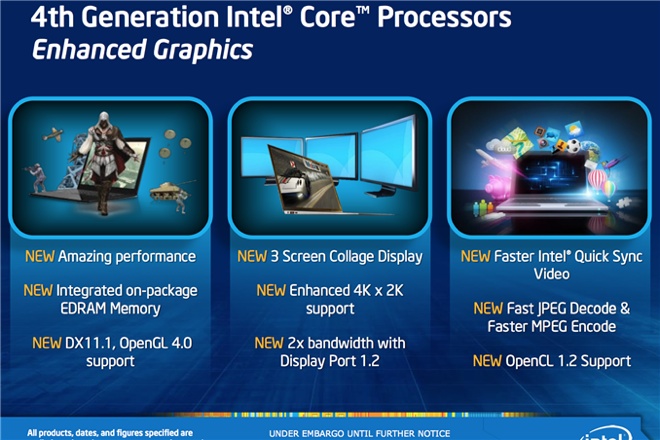 Intel Iris is the name of a new series of graphics processors that will be integrated into the upcoming Haswell processors. Mind you, not all integrated GPUs on the Haswell processors will be designated with the Iris name. Intel is reserving this name for only their highest performing mobile GPUs, which will be integrated into the top of the line Core i7 models.
With Iris, Intel is promising a performance boost of around two times over the current generation Ivy Bridge processors, which is quite significant. Intel also plans to compete with the NVIDIA 650M, a dedicated mobile GPU, which is quite ambitious.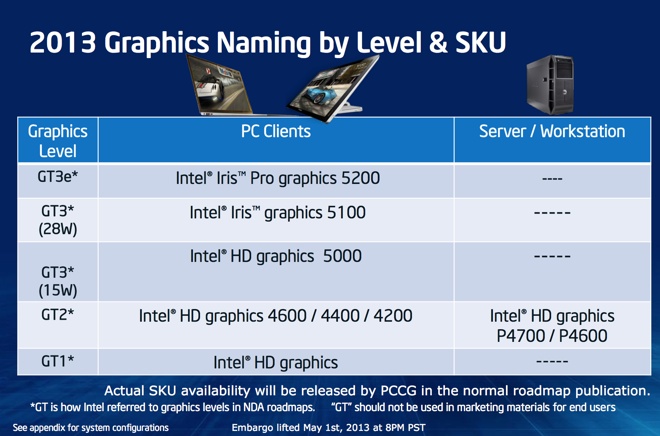 This doesn't mean that the other Haswell chips won't be getting a GPU upgrade. There are five tiers of Intel GPU for the next generation Haswell chips, denoted by the GT acronym. The GT1 levels chips will have Intel HD Graphics, GT2 will have Intel HD graphics 4600/4400/4200, GT3 (15W TDP) level chips will have Intel HD graphics 5000, GT3 (28W TDP) levels chips will have Intel Iris graphics 5100 and the top of the line GT3e chips will get the Intel Iris Pro graphics 5200 GPU. Intel is promising performance improvement over Ivy Bridge across the board, with the most improvement seen in the chips running Iris. Haswell also brings support for DirectX 11.1, OpenCL 1.2, OpenGL 4.0 and 4K x 2K support.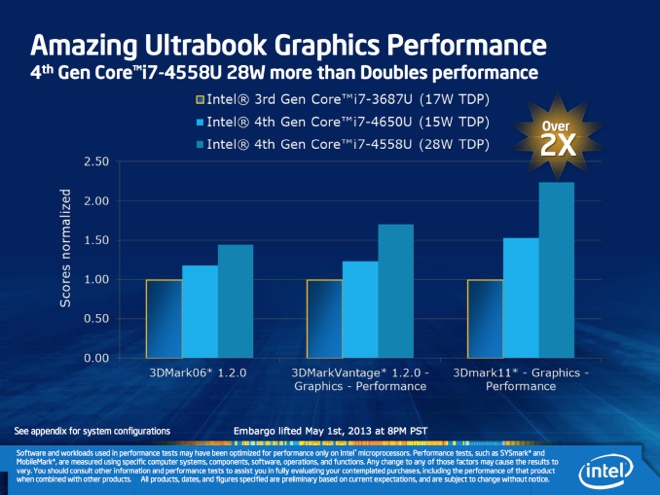 A faster onboard GPU is an important asset for Ultrabooks as they don't have a dedicated GPU due to power and thermal constraints. An onboard GPU is all they have and if it isn't powerful enough then you can pretty much forget about gaming, which is what the situation has been so far. This is where Haswell is expected to make a big difference, with graphics powerful enough to make gaming possible even without a dedicated GPU without consuming too much power. On desktop computers, a powerful onboard GPU will come in handy for tasks such as video encoding, using Intel's QuickSync technology.
For more information, click on the source link below.