Intel has managed to maintain supremacy on the CPU front for quite some time now. The company has built such a formidable reputation for itself, that it is truly a household name. Few people, however, tend to associate the chip maker with graphics and beastly GPU performance.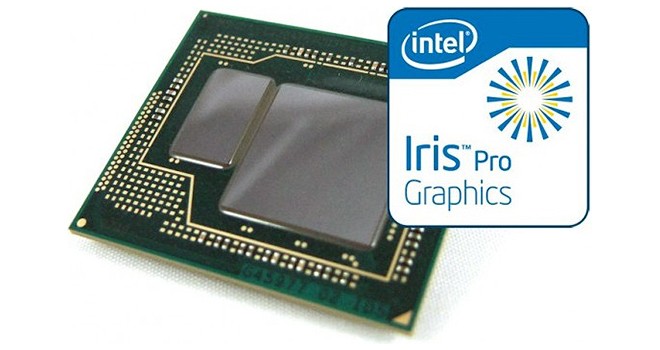 With its fifth generation Broadwell architecture, Intel pushed the envelope even further in terms of power to performance ratios. Yet, if you want a truly capable onboard graphics solution, Intel chips typically get outshined by what AMD's APUs have to offer. The California company has been trying hard to bridge this gap in performance and its latest additions to the Broadwell lineup are a testament to this effort.
A total of five new chips were showcased at Computex 2015. They all employ the 14nm Broadwell architecture, but are bundled with new Intel Iris Pro 6200 Graphics chipsets. The new GPU chips promises impressive performance gains, while still retaining the all-important power-efficiency. To quote the presentation: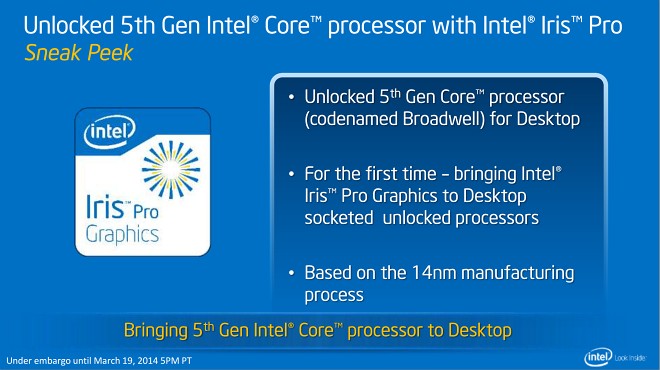 The new lineup consists of two desktop models, bearing the "C" moniker and working on LGA1150 socket and three mobile chips with an "R" in the name, intended for a BGA1364 socket. The 6 all have a TDP of 65W and have four physical cores, which is a first for the Broadwell line. But, this is not the only novelty in the new models. This is actually the first time Intel has included its Iris Pro graphics series in desktop silicon. This definitely shows a level of confidence in their performance. The full list of new Core i5 and Core i7 processors, announced today, can be found in the table below.
Model
Cores /
Threads
Clock / Turbo
L3-cache
IGP
Memory
TDP
Socket
Core i5-5575R
4 / 4
2,8 / 3,3GHz
4MB
Iris Pro 6200
ddr3l-1600
65W
BGA1364
Core i5-5675C
4 / 4
3,1 / 3,6GHz
4MB
Iris Pro 6200
ddr3l-1600
65W
LGA1150
Core i5-5675R
4 / 4
3,1 / 3,6GHz
4MB
Iris Pro 6200
ddr3l-1600
65W
BGA1364
Core i7-5775C
4 / 8
3,3 / 3,7GHz
6MB
Iris Pro 6200
ddr3l-1600
65W
LGA1150
Core i7-5775R
4 / 8
3,3 / 3,8GHz
6MB
Iris Pro 6200
ddr3l-1600
65W
BGA1364
As far as pricing goes, nothing has been officially announced yet, but, previous rumors hint at a price of about $479.99 for the top of the line Core i7-5775C and $349.99 for the Core i5-5675C. Currently, the Core i7-4790K and Core i5-4690K cost around $339 and $242, so, there is quite a substantial premium to be paid. Still, the new models are quite a viable choice for any build that does not require a dedicated GPU.