Intel has announced the next generation of its CPU architecture designed primarily for mobile devices such as smartphones and tablets, called Silvermont. Silvermont will be replacing the Saltwell CPUs that have been used in the recent Medfield, Clovertrail and Clovertrail+ SoC.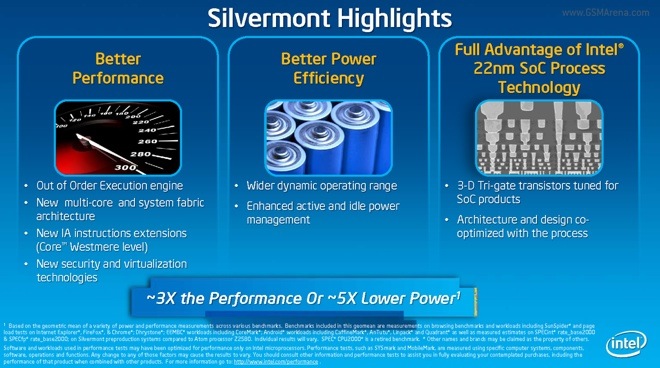 With Silvermont, Intel will be starting the same tick-tock cadence they use for their desktop processors. Silvermont is based on a 22nm architecture and will be succeeded by Airmont next year, which will be based on 14nm. Devices running Silvermont CPUs are expected this year, with tablets running the new Atom processors by the end of 2013.
The Silvermont CPUs will be part of the new Bay Trail range of SoCs. According to Intel, the new architecture provides 3x the peak performance over the current generation Atom processors but with an amazing 5x lower power consumption. Intel didn't specify the changes on the GPU side in Bay Trail but promised double the performance over the current range of Atom processors.
Finally, after all these years of delaying, it seems Intel might just have a shot at winning the race in the mobile segment with the new and upcoming Atom processors against ARM.
For more information and detailed analysis, click on the link below.