You read correctly, not 15 days, weeks or months but years. Xpal Power, makers of other power savvy mobile kit, designed to prolong the life of your smartphone, have just announced the SpareOne.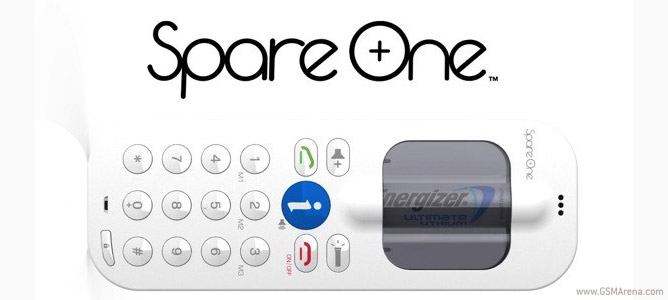 Powered by a single AA battery, its makers say that the SpareOne will be capable of holding its charge for an unbelievable 15 years and what's more, it's intended to be super cheap to buy too.
Think of those situations where, for instance your car breaks down, smartphone batteries aren't exactly known for their longevity versus your typical feature phone and in a tight spot, you want the best chance of being reachable.
What the SpareOne aims to offer is a worry free solution, by keeping costs down, keep the device simple and as we've already mentioned, extending battery life beyond that of your average bear phone.
The SpareOne is a dual-band GSM device and takes a not-so-typical microSIM. As well as a call ID, the device also transmits its location, so if you've have made it your emergency phone, it helps in more ways than one.
Creators Xpal Power also suggest that the SpareOne could serve as a short-term loan phone for corporate events, as much as its role in emergencies. Interested? Picking one up will set you back one cent shy of $50, but that seems pretty reasonable for a phone with more stamina than Forest Gump.
XPal intend to show off the SpareOne along with some of their other projects once CES officially kicks off tomorrow, but in the meantime, read on for the press release and follow the source link to see the SpareOne's very own micro site.
SpareOne Debuts the Only Cell Phone in the World That Runs on a Single AA Battery and Maintains Its Charge Up to 15 Years
Ideal for emergencies, worldwide travel and situations when accessing power is not an option, SpareOne is the only cell phone that provides true reliability
Las Vegas, NV – January 9, 2012 – XPAL Power, patented battery technology giant behind leading portable power manufacturers PowerSkin® and Energizer® Energi to Go®, will debut its newest innovation – SpareOne – at CES 2012 in Las Vegas, Nevada, January 10th-13th. SpareOne is the only cellular phone in the world that runs on a single AA battery, providing a constant line of communication even in the absence of electricity as well as the ability to pre- program important phone numbers for easy access to visitor, travel and emergency services.
"SpareOne's breakthrough technology provides an unprecedented lifeline during dire situations that require an emergency response," said Alan Cymberknoh, SpareOne Project Director at XPAL Power. "By operating on a single AA battery, SpareOne solves so many daily issues, serving as a simple back-up phone you can carry without worrying whether it's charged or not. It can be left in a car for emergencies, used by hotels who want to pre-program concierge numbers for guests, passed to your children or parents to maintain an open line of communication – it's essentially designed to make and receive the most important calls, no matter what."
SpareOne is a dual band GSM cell phone featuring patented technology enabling it to be powered using the most common and widely available battery, an AA (Alkaline, NiMH or Lithium). It boasts an incredible talk time of up to 10 hours* and can keep its charge for up to 15 years*1 if unused, making it the only cell phone that provides true reliability. SpareOne recommends Energizer® Ultimate Lithium, as it is the longest-lasting AA battery designed for high-tech devices, holding a charge longer than any other AA battery chemistry.
SpareOne was designed for a myriad of possible applications, including:
• Emergencies: With a built in emergency flashlight and the ability to automatically transmit its location via the cell ID, SpareOne is the only reliable tool for urgent response during a crisis or natural disaster when AA batteries become the only source of power.
• Travel: Travel agents, hotels, airplane attendants and other professionals in the tourism industry will be able to customize SpareOne to cater to their customer base, including programming SpareOne with minutes that can be used by travelers to make calls at local rates, or pre-loading them with convenient numbers to taxis, restaurants, airline ticketing and other localized concierge services.
• Bundling & Corporate Partnerships: Corporations can customize bundle packages for employees, such as encouraging employees to buy a smartphone and receive a SpareOne for free.
• Special Events: Moving forward, SpareOne will offer options to brand and customize designs and colors to correspond with special events.
• Families: SpareOne provides peace of mind to families with three re-settable speed dial buttons to keep the lines of communication open with children, seniors and other loved ones.
• Outdoor Enthusiasts: SpareOne is an ideal safety companion for people who frequently practice outdoor activities such as yachting, skiing, canoeing and any other activity in the wilderness. As long as there is cell phone coverage, SpareOne will always maintain its ability to make and receive calls, regardless of whether electric infrastructure is present or not.
"SpareOne has limitless potential and we're excited to first announce it at CES 2012," said Alan Cymberknoh.
SpareOne, equipped with an Energizer® Ultimate Lithium AA battery and a Micro SIM card, will be available nationwide in Q1 2012 for $49.99 on www.Power-Skin.com and the official site – www.SpareOnePhone.com. Different versions – for the Unites States, Europe and Asia – will be available with WCDMA frequency options for selected regions.