Watch phones are still fairly popular, but their main problem is that the models available aren't very good. What if you could have a watch that's powered by Android, is not a phone but can remotely control a smartphone and handle calls, show you incoming texts, notifications and so on and finally comes with a titanium or gold casing?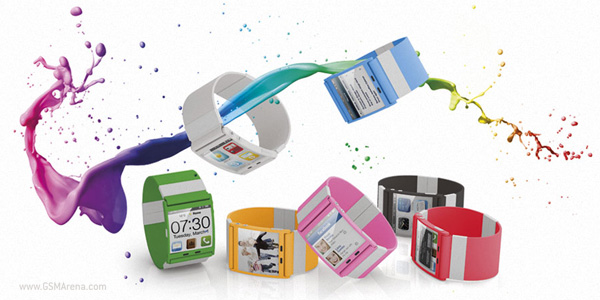 I'm betting not many people have thought about just such a configuration, but if you have – then i'm Watch is the one for you. It's available in i'm Color (cheap, made of plastic) and i'm Jewel (pricier titanium or expensive gold versions).
Here are the basic specs of i'm Watch – 55 x 40 x 9mm and 70g (for the i'm Color version, heavier for i'm Jewel), 1.54″ TFT with 240×240 pixels resolution (220ppi), Android-based OS, Bluetooth 2.1 + EDR and last but not least, i'm Watch was designed in Italy (for what that's worth).
The watch itself doesn't have phone functionality but connects to your smartphone (droids, iPhone, BlackBerries and WP7 phones are all supported). Over Bluetooth, the phone can make/receive calls, read texts and emails, show Facebook notifications and so on.
The 350mAh battery is good for 3 hours of talking (though I can't imagine that's very comfortable), 30 hours standby (with Bluetooth on) or 48 hours (with BT off, but then you lose most of the features of i'm Watch).
i'm Watch runs an Android-based OS, but it doesn't seem to support standard droids apps. It does have an app store though (called i'm Store obviously), which can extend the functionality further. It runs on a Freescale i.MX233 CPU (up to 454MHz clock speed, exact number is unknown) and 64MB RAM.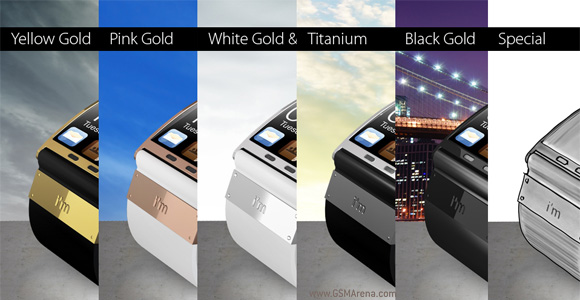 Anyway, if you're interested you can pre-order i'm Color (the plastic version, available in several colors) for €249 (that's $360), i'm Jewel (titanium casing) for €599, or go for the pricier i'm Jewel options – Yellow/Pink/Black gold for €11,999 or White Gold & Diamonds for €14,999. There's a i'm Special version too with "only with luxury materials" and price "to be define upon request".
It should be noted that i'm Watches will start shipping in November and until then, the prices are with 20% off (that is, these expensive prices will get even pricier afterwards).
Or you could always go for a Sony Ericsson LiveView (~€40) or one of those iPod nano watch thingies.