Pebble has opened pre-orders for its Time smartwatch to anyone and the team even sent a unit to iFixit. The Pebble Time is rated for 30m water resistance, but even so it earned a surprisingly high repairability score.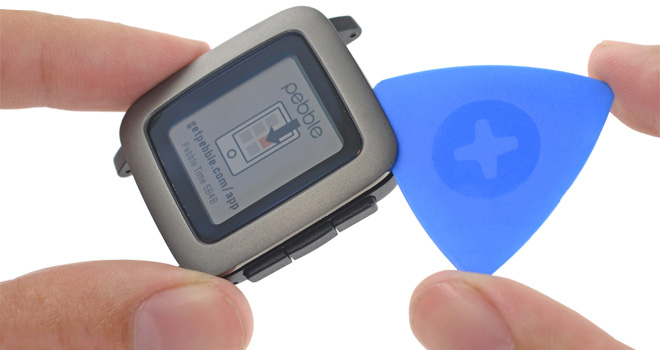 Some heat was all that was needed to pop the top open and reveal the rather simple internals.
iFixit uncovered some additional details about the e-paper display in the process. It measures 1.25″ big and has 144 x 168px resolution, each pixel only supports up to 64 colors. That isn't much compared to the Android and Apple competition, but a big advancement over the original model.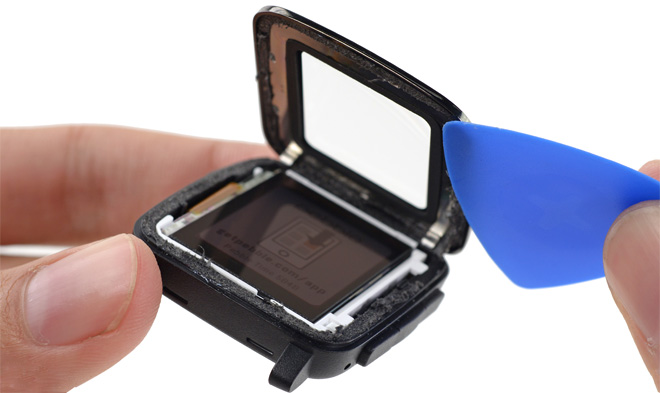 The screen is covered by Gorilla Glass and it's not a touchscreen. The major upside of the e-paper tech is that it's low power (so it's always on) and it has high visibility in the sun. The screen is pretty unusual with differently-sized pixels and something Pebble calls "memory-in-pixel" LCD.
The processing muscle comes from a sole Cortex-M4 core at 180MHz hooked up to 128Mbit flash storage. There are some sensors (accelerometer, compass) and a microphone (currently used for voice replies, soon for voice notes).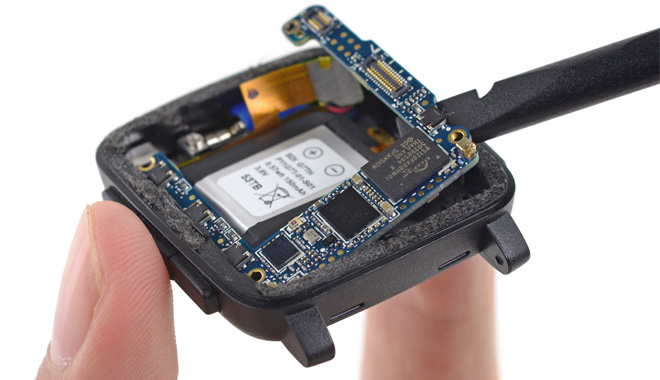 The whole thing is powered by a tiny 150mAh, 3.8V (0.57Wh), that's less than the Apple Watch (205mAh) and Android Wear devices (300mAh). Still, the e-paper display is so efficient that the Pebble Time can last up to a week between charges.
The final repairability score is 9/10 for easily exchangeable wrist-bands (the upcoming smart bands are supported in hardware), a display that's not fused to the front, standard Phillips screws and modular internal components. The one hurdle to opening up the Time is that it requires heating up to open and you have to replace that adhesive when putting things back together.