It would be a big shame if something on your brand new Nexus 7 2 broke, but as it turns out if it did, it wouldn't be too hard to repair. iFixit took the new 7" Google tablet apart and awarded it a repairability score of 7/10.

The team also took apart a Chromecast, but mostly out of curiosity – the $35 stick is made out of a plastic enclosure and a motherboard, there's nothing to repair there.
But back to that in a minute. The new Nexus 7 2 proved a bit difficult to open with the back cover getting cracked. Anyway, inside is a 3.8V 3,950mAh battery (which was rather tough to remove too) under a wireless charging coil and an NFC antenna.
The motherboard has a Qualcomm Snapdragon S4 APQ8064-1AA chipset, which as it turns out is a downclocked Snapdragon 600 chipset – four Krait 300 cores (rather than Krait 200) at 1.5Ghz and Adreno 320. There are also four Elpida 512MB RAM chips, SK Hynix 16GB eMMC storage, a Wi-Fi a/b/g/b and BT4.0 capable Qualcomm chip and an Analogix SlimPort transmitter.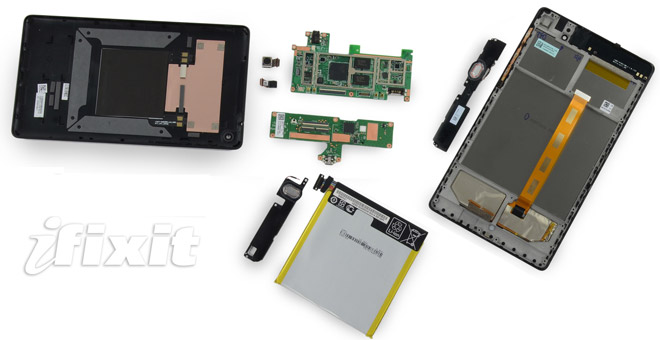 Besides the difficulties of opening the Nexus 7 2 and removing the battery, the iFixit team says the Gorilla Glass is glued to the LCD, which means you'll need a heat gun to replace the glass if it cracks.
As for the Chromecast, there's very little going on – a motherboard and a solid aluminum strip that acts as a heatsink. The little stick is powered by a Marvell DE3005-A1 chipset (with two 1.2GHz CPU cores comparable to Cortex-A9), 512MB low-voltage DDR3 RAM, 2GB flash memory and Wi-Fi b/g/n and Bluetooth 3.0 capable wireless chip.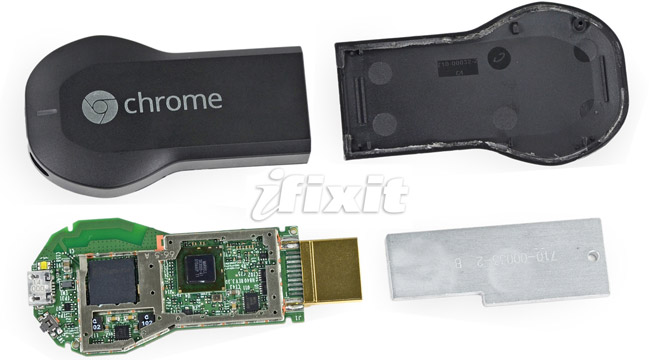 Hit the iFixit site for step by step disassembly instructions with photos the whole way through.