Samsung showed off the Series 7 laptops, which will keep the Series 7 Slate PC company. The laptops come in 14″ and 15.6″ flavors and go up to quad-core Core i7 and to make sure the powerful CPU is busy, there's an 8GB SSD cache for the hard drive.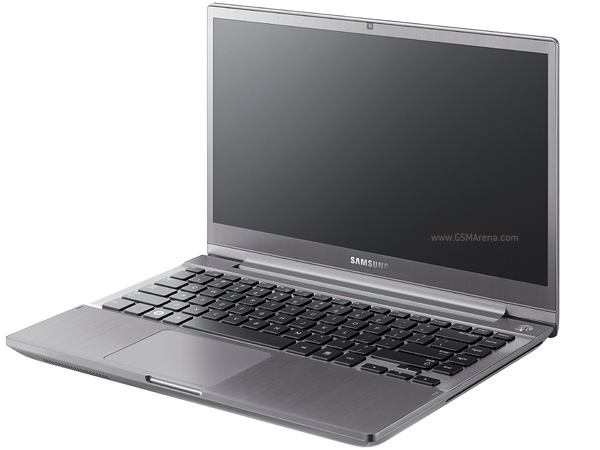 Prices start at $999 and for that price you get a brushed aluminum body that's under 2.5cm thick and weighs 2.29kg (for the 15.6″ model, the 14″ model is 1.95kg).
Samsung brags about having fit a 14″ screen in a laptop the size of a 13.3″ model. And what a display it is – both the 14″ and 15.6″ models come with 1600×900 displays with 300nits of brightness.
There's a AMD Radeon 6490M or 6750M GPU feeding the display, depending on the model. No struggling with Intel-made graphics here.
As for the processors, the 15.6″ Series 7 laptops offer Intel Core i7 2675QM quad-core processors, while the 14″ model has Core i5 2430M dual-core. Even the quad-core versions promise up to 9 hours of battery life.
All but the cheapest $999 model have 8GB SSD and ExpressCache technology aiding their 750GB hard drives – Samsung claims this provides faster boot times and better overall performance.
Here's a table with the specs of the four upcoming Samsung Series 7 laptops. They'll launch October 2nd, but there's no info on which countries will get them.
NP700Z5A-
S02US

NP700Z5A-
S01US

NP700Z3A-
S01US

NP700Z5B-
W01UB

Processor

Intel® Core™ i7
Processor
2675QM (2.20
GHz, 6 MB
[L3])

Intel® Core™ i7
Processor
2675QM (2.20
GHz, 6 MB
[L3])

Intel® Core™ i5
Processor
2430M
(2.40 GHz, 3 MB
[L3])

Intel® Core™ i7-
2675QM
Processor

(BGA Type, SV)

Operating System

Genuine
Windows® 7
Home Premium
(64 bit)

Genuine
Windows® 7
Professional (64
bit)

Genuine
Windows® 7
Home Premium
(64 bit)

Genuine
Windows® 7
Home Premium
(64 bit)

Memory

(Max)

6GB DDR3

(on Board 4G +
2G)

8GB DDR3

(on Board 4G +
4G)

6GB DDR3

(on Board 4G +
2G)

6GB DDR3

Storage
(max)

750GB

w/ EC 8GB

750GB

w/ EC 8GB

750GB

w/ EC 8GB

750GB
Screen

15.6″

15.6″
14.0″
15.6″
Resolution
1600 x 900
1600 x 900
1600 x 900
1600 x 900
Graphics

AMD Radeon
HD 6750M

AMD Radeon
HD 6750M

AMD Radeon
HD 6490M

AMD Xeymour
HD 6490M

Speakers

3 W (1.5 W x 2)
stereo speakers

3 W (1.5 W x 2)
stereo speakers

3 W (1.5 W x 2)
stereo speakers

3 W (1.5 W x 2)
stereo speakers

Integrated
Camera

1.3MP HD
1.3MP HD
1.3MP HD
1.3MP HD
Battery

Lithium Polymer;
up to 9 hours

Lithium Polymer;
up to 9 hours

Lithium Polymer;
up to 9 hours

Lithium Polymer;
up to 9 hours

Wireless
802.11 b/g/n
802.11 b/g/n
802.11 b/g/n
802.11 b/g/n
Weight
5.05 lbs
5.05 lbs
4.30 lbs
5.05 lbs
MSRP
$1,149.00
$1,299.00
$1,099.00
$999.99