Proud owners of a new Nokia N9 are probably more than happy with its unique, quirky and individual OS MeeGo, but for some, that just isn't enough.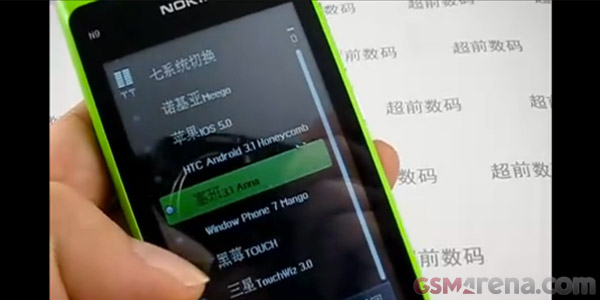 This unusual looking lime green N9 has been demoed on video showcasing its ability to switch between not just one, but seven different mobile operating systems. Of course it's not some special edition or in house unit leaked from the Finns but in fact a peculiar shanzhai/'Nok-off' straight from the back streets of China.
This Chinese impostor, although not quite living up to the hardware specs of the real-deal does have the unique power to switch between MeeGo, iOS 5.0, Windows Phone 7, BBOS, HTC Sense, Samsung's TouchWiz and Symbian Anna.
Assumedly this device is for users who just can't make up their minds, or at least like to keep things interesting. Along with this menagerie of operating systems, the Nok-off N9 totes dual-SIM functionality, a 3.8″ WQVGA resistive touchscreen, a 1.3MP camera on the back and to top it all off, a Talking Tom app, typically found on a genuine iOS device and a selection of pre-installed porn too, one would assume for when the OS switching loses its appeal.
We don't have a price for this confused N9 but it's at least caught our attention as one of the most impressive knock-offs we've seen.