HzO WaterBlock is a technology that utilizes invisible vapor coating that wraps around your device's innards.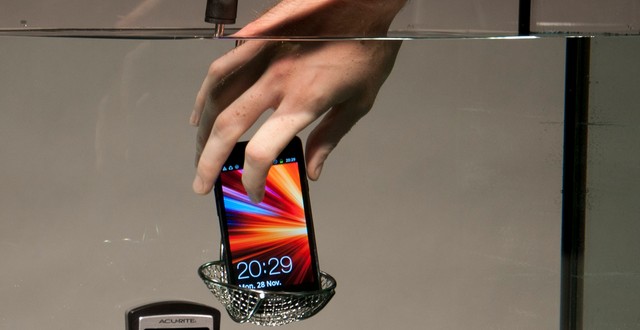 HzO's protective nano-sized molecules protect the device's electronics, like processor, RAM, radio chips and more from moisture.
Here's a video that attempts to explain HzO's WaterBlock to the public.
Showcased at CES 2012 and winning its Innovations Design and Engineering Award HzO's WaterBlock technology has reportedly generated considerable buzz among some of the biggest OEMs out there such as Samsung. The manufacturing giant has reportedly expressed its desire to include the new awesome tech in future products.
We could be in for WaterBlock-protected devices as early as next season, HzO has told Pocket-lint.
Here is a demonstration of HzO WaterBlock versus Motorola's Splash Guard technology.
By providing the molecular-grade protective coating during the manufacturing process of a phone, tablet, or just about any consumer electronics device it will become virtually impervious to water and at almost no additional cost to the manufacturer.
It looks like a far superior solution to a water-proof case or having dedicated water-proof devices – those aren't doing too well on the smartphone market, probably mainly due to the added bulk.
Finally here's a promo video for the WaterBlock effect on mobiles.
All of this looks sci-fi worthy right? Share your thoughts on HzO's groundbreaking innovation in the comments below.