The Hyetis Crossbow pre-order campaign has begun – for $1,200 you can have one of the first Swiss-made smartwatches. Note that this is a limited run of 500 units. The watch should have a 41MP camera sensor (actual resolution subject to change) with optical zoom, an authentic Swiss watch movement and more connectivity than you thought possible.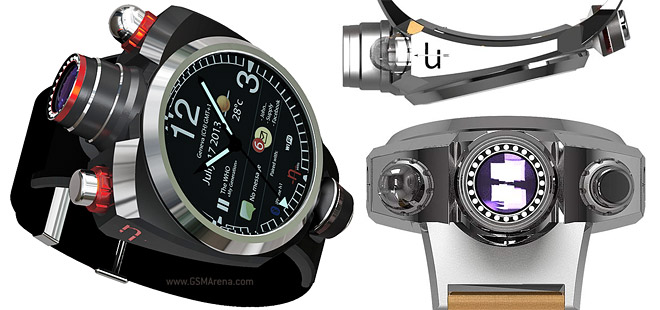 The watch body will be made from grade 5 titanium with a "Dark Knight" finish. It has a sapphire glass on the front with anti-glare coating and is waterproof up to 250m.
UPDATE, October 23: ZEISS contacted us to clarify that the Hyetis Crossbow DOES NOT have a ZEISS lens.
The glass on the front is also a high-res LCD display and below it is a regular watch face with a 25-jewel automatic movement with a 48 hour power reserve. In the box you'll get two interchangeable textile wristbands – red and black.
But the delivery of the watch itself will have to wait until the end of the year (delivery starts at $10 by the way). First you'll get a certificate then a box with more certificates and a card you'll need to activate the Crossbow when you receive it. There will be some exclusive surprises too.
The smartwatch can be paired with an iOS, Android or Windows Phone smartphone, but is pretty capable on its own. It has Wi-Fi, Bluetooth, NFC and GPS connectivity, an accelerometer, biometric sensor altimeter, thermometer, hygrometer and light meter, plus an HD microphone.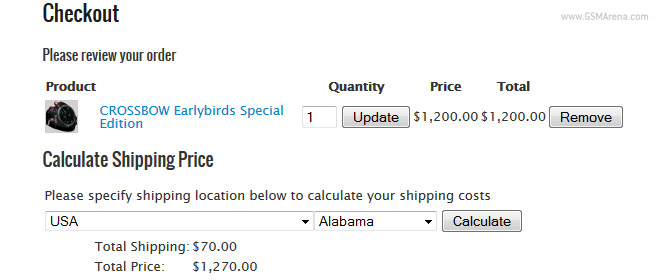 Here's the pre-order page for the Hyetis Crossbow. Keep in mind that the specs seem to be in flux (e.g. the light meter is new, the camera specs isn't finalized at 41MP and so on). "Some specifications may vary slightly by delivery," says Hyetis and promises to notify you of any changes.