Huawei unveiled the P8 a couple of days ago. The flagship smartphone is headed to stores soon, and it looks like the Chinese company has a surprise prepared for its customers in the UK. The leaked image you can see below is complemented by a rumor saying UK-based buyers of the P8 will get "VIP Service".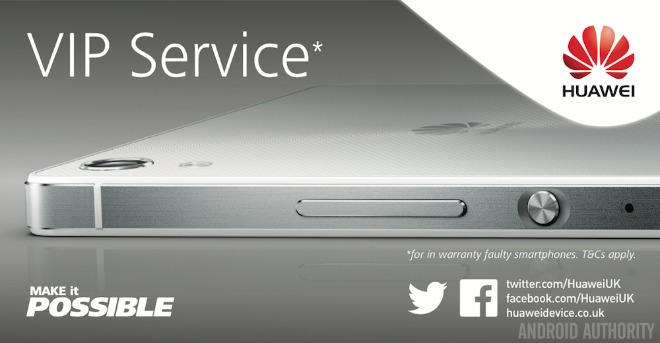 What this means is that you'll get same-day courier replacement if you have a faulty unit. According to a source inside Huawei, customers will be able to call a special number and speak to a customer rep who will diagnose the problem. If the issue is covered under warranty, then a new handset will be dispatched immediately, with same-day or next-day arrival (if the call happens after the cut-off time for the same-day option) at the customer's doorstep.
To ensure that you don't send in a device which has a fault that isn't covered under the warranty, Huawei will charge you a £100 deposit.
The VIP service is currently only planned for the UK, but if it's successful over there it might be made available in other countries in the future (and for more phones above a certain price). This service is similar to what Huawei already offers for its Honor sub-brand in the UK, namely for the Honor 6 and Honor 6 Plus smartphones. For non-flagships, the company promises a guaranteed 2-5 day repair (plus one additional day for shipping).
Apparently the VIP service option will also be applied for the P8 Lite whenever that launches, but strangely there's been no word on whether the P8max will be covered. That's odd because while the P8 Lite should have been unveiled alongside the P8 too, it wasn't – yet the P8max was.