The HTC Butterfly S, a refresh of the original HTC Butterfly (DROID DNA in the US) released this January, comes as yet another flagship from the Taiwanese company, this time in the 5-inch display range.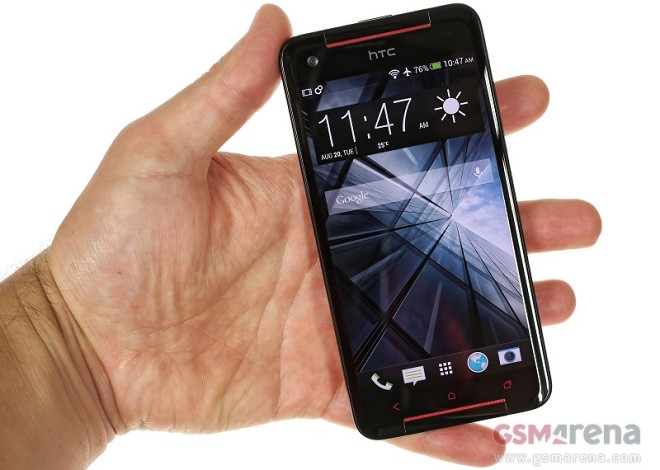 Apart from the larger display, the Butterfly S has a beefier processor than the HTC One, and a huge 3200 mAh battery.
The Butterfly S features the same Qualcomm APQ8064T Snapdragon 600 processor as the One, except here it's clocked in at 1.9GHz, compared to the 1.7GHz found on the other flagship. Other than that, it gives you the same Adreno 320 GPU, 4 MP camera (except without OIS), and identical Android 4.2.2 build with Sense 5.
Like the original Butterfly – and even more so on the DROID DNA – the Butterfly S comes with some characteristic red highlights on the speakerphone grilles as well as the capacitive buttons. While our particular model also has the matching red back panel, the highlights on the front are still there on the black, white, and gray paintjobs as well. Speaking of paintjob, unlike on the HTC One and the original Butterfly, here you'll find a glossy finish that is extremely prone to fingerprints.





The HTC Butterfly S • Flanked by the HTC One and HTC Butterfly
Like we said, the Android interface you'll find on the Butterfly S is largely the same as on the HTC One. It includes HTC's Blinkfeed news and SNS homescreen, Zoe camera app, as well as remote control capabilities for its IR-blaster via the TV app. For a quick look at the interface as well as the retail package of the Butterfly S, check out the brief video below:
Be sure to check back with us soon for our full review on the HTC Butterfly S, including a camera comparison with the HTC One and a rigorous battery test on its 3200 mAh juice pack.