The veil has officially lifted – the HTC ThunderBolt is out in the open and ready to impress with LTE connectivity and a 4.3" touch screen. The rumored UMTS connectivity didn't pan out though, it's just CDMA EvDO Rev. A and LTE…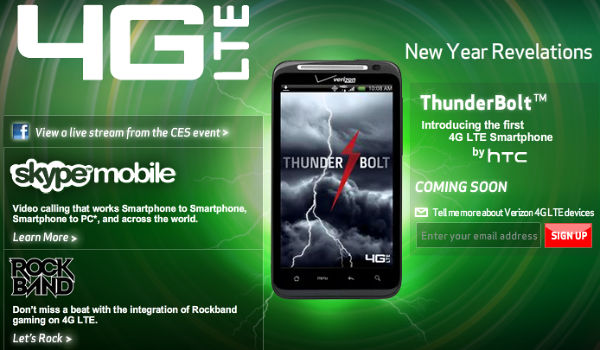 The HTC ThunderBolt flaunts impressive specs but if CDMA isn't available in your country, don't feel too bad – the ThunderBolt is essentially an HTC Desire HD with CDMA and LTE connectivity built in along with a few other goodies.
A 1.3MP front facing camera has been added to the mix, along with Skype integration (which integrates with the phone book and supports video calling over CDMA/LTE), bigger 1400mAh battery, 8GB of built-in memory and (if I'm reading this correctly), a 32GB card in the box.
Sounds impossible (and awesome) but how else can you interpret "preinstalled 32 GB microSD"?
Anyway, the rest is still here – 4.3" TFT WVGA touchscreen, 1GHz Snapdragon, 768MB RAM, 8MP camera with dual-LED flash and 720p video capture, Wi-Fi b/g/n, Bluetooth 2.1 (updatable to 3.0 "when available") and Android 2.2 Froyo with the latest Sense UI.
There's no release date just yet (or price) but you can sign up for a notification when more details are available.