HTC might be having some trouble lately, but that doesn't stop it from caring for the early HTC One adopters. The first batch of the flagship suffered delays due to some production shortages, which were recently overcome.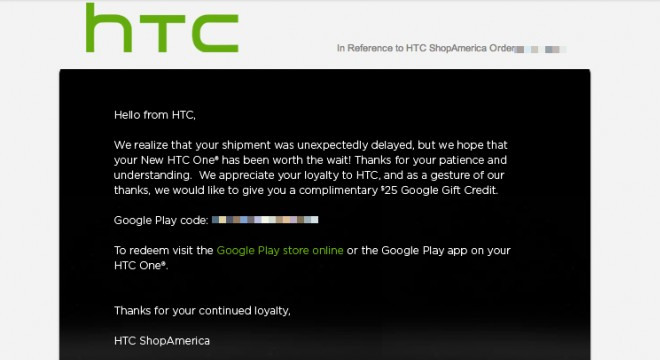 If your HTC One order was delayed because of those production hiccups but you didn't give up on the One, HTC will soon reward your patience with a $25 Google Play voucher.
Here is the official statement from HTC's email:
"We realize that your shipment was unexpectedly delayed, but we hope that your new HTC One has been worth the wait! Thanks for your patience and understanding. We appreciate your loyalty to HTC, and as a gesture of our thanks, we would like to give you a complimentary $25 Google Gift Credit."
The following email was sent from HTC Shop America, so it's unclear if other regions will get the same kind treatment.