A leaked screenshot of an internal Best Buy memo caused a stir at first, promising Android Ice Cream Sandwich updates for the HTC Rezound and the Motorola DROID RAZR and DROID RAZR MAXX.

The update for the Rezound should hit today, if there aren't any problems and misunderstandings. The ICS update for the Motorolas isn't happening though, not now anyway.
The original memo above was published at the end of March and promised an ICS update for the RAZRs on April 4. However, on the 4th the memo was updated and the Motorola smartphones were removed from the list of devices to get ICS.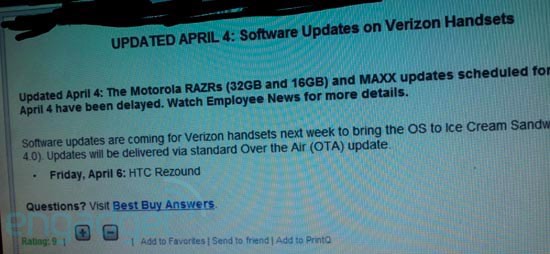 The HTC Rezound was left on that list, so unless there are any last minute changes again, owners of the Verizon droid should be seeing an update notification very soon. If you do, drop us a line in the comments to confirm that the update is indeed rolling out.
Motorola will be pushing out Ice Cream Sandwich to the RAZR and RAZR MAXX "soon" (they already have a beta version out), but they wouldn't give a release date.
http://twitter.com/#!/Motorola/status/187582054471434240
There's still an update coming to the two Verizon Moto droids though – build version 6.12.181 brings optimized battery life, IPv6 support, enhanced security, fixes in the Wi-Fi Hotspot mode when using WPS and more accurate 4G signal strength indication.