So far we've put five smartphones through our new battery test, but the HTC Radar is the first to fight under the WP flag. The Mango-running smartphone will give us the first indication on how the Microsoft platform fares against its competitors in terms of power efficiency.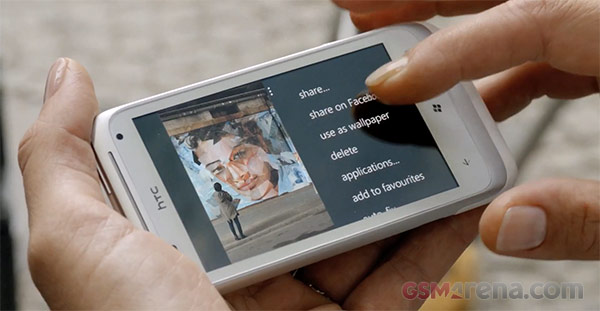 The HTC Radar comes with a 1520 mAh battery and a 3.8″ LCD screen, so it had a reasonable fighting chance. In fact it is one of the most favorable battery-to-screen-estate ratios we've seen so far in our test.
The HTC Radar didn't start particularly impressively and ended up bottom in our first test after surviving for just 6 hours and 53 minutes of 3G voice calls. It's not a great surprise though – screen size doesn't play too big a part in this test and it's all down to the sheer battery capacity.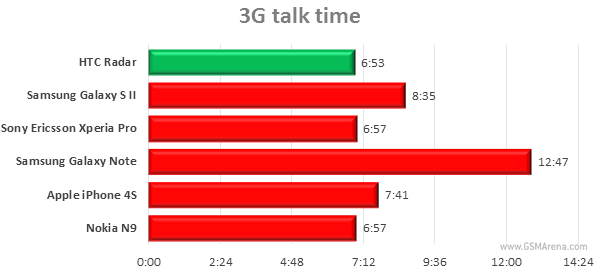 We then came to the second trial – web browsing endurance. We use an automated script, which reloads a page every ten seconds. There are no flash elements on the web pages, so the playing field is even.
We set the display brightness to 50% and we use a Wireless N connection, with the router placed a few meters away from the tested phones, so we are getting full bars on every one of them.
This second test was where the HTC Radar impressed the most. The WP smartphone went on for the unbelievable 7 hours and 17 minutes before it depleted its fully charged battery and easily topped our charts.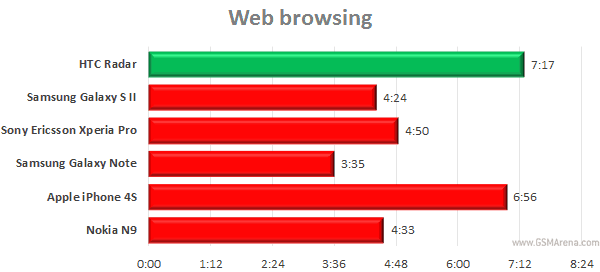 The last individual challenge for the HTC Radar was video playback, but unfortunately it couldn't do so well there. It took exactly 5:54 hours of SD video playback with the screen brightness set to 50% and all radios switched off to take its battery from full to 10% (this test ends at that point).
As you can see from the graph below, this barely sufficed to lift the HTC Radar off the bottom.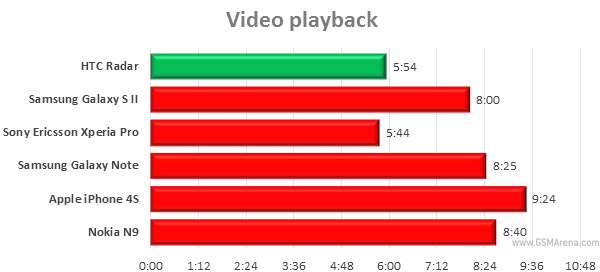 So, knowing the results from the individual tests, we didn't really expect wonders from the HTC Radar in our overall usage test. The stand-by performance of the device was pretty poor too and at the end, it only got an endurance rating of 34h, which is the lowest score we have issued so far. This suggests that you'd need to charge this one every 34 hours if you do one hours of each of the three activities described above per day.