The HTC Flyer is the first ever true tablet to come out of the HTC portfolio (those humongous Advantage things don't count). It looks very cool and sleek in its white-slash-aluminum casing and feels very solid in your hands.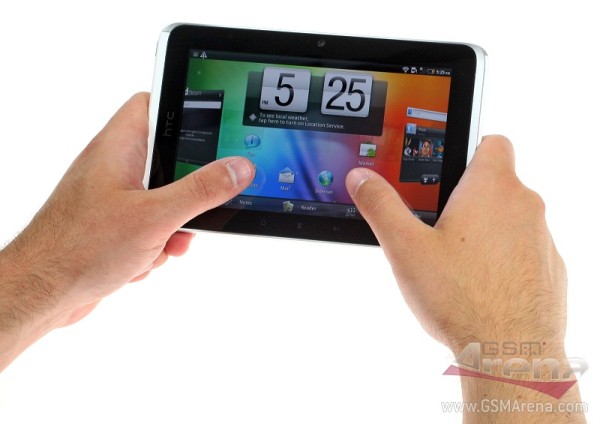 When you unlock this bad boy, you are greeted by the awesome HTC Sense 3.0, popping up on a 7-incher and it really lights up the entire experience compared to the smaller smartphone screens. Some might argue that offering only a phone-optimized Gingerbread instead of the tablet-in-mind Honeycomb OS is a bad thing but this has allowed HTC to bring the proper Sense feel to the Flyer.
The HTC Flyer offers a 5 MP snapper with autofocus and 720p video recording, a 7″ 16M colored multi-touch display, great connectivity suite and the innovative HTC Scribe technology, which allows users to draw on the screen on whatever they wish (websites, the menu, photos, etc.). The whole thing is powered by a single core ARMv7 processor, clocked at 1.5GHz and there's an ample 1 gig of RAM.
It feels very snappy and we encountered no lags whatsoever with it. The things it can't do, however, are record (or properly play) 1080p FullHD video, as there just isn't enough power under its hood. It's also a wee bit on the heavy side for a 7-incher.
We've naturally prepared a user interface demo for you guys to enjoy.
We're already have a review of the Flyer in the works, so stay tuned.